For weekends or breaks enjoying a cycling outing or adventure in Normandy, consult here all the practical information you need to get going. From bike rental to where to get cycling equipment repaired, via Accueil Vélo-accredited partners, plan your weekend on our cycle routes. Many other of our partners in tourism will be delighted to welcome you around the Eure as you enjoy your eco-friendly, non-motorised vacation! On our cycle routes, you can appreciate our verdant valleys and plains to the full. So, no excuses, come and discover the Eure by bike.
What is the Accueil Vélo accreditation scheme?
Located close to the Seine à Vélo cycle route and other cycle routes through the Eure, the addresses awarded the Accueil Vélo label have to be within 5km of a cycle route and to offer a welcome and services adapted to the needs of cycling holidaymakers. Whether accommodation providers, restaurateurs, tourist offices, tourist sites or bike rental and repair companies, the partners involved in this scheme work hard to ensure that cycling tourists can enjoy the best of cycling holidays.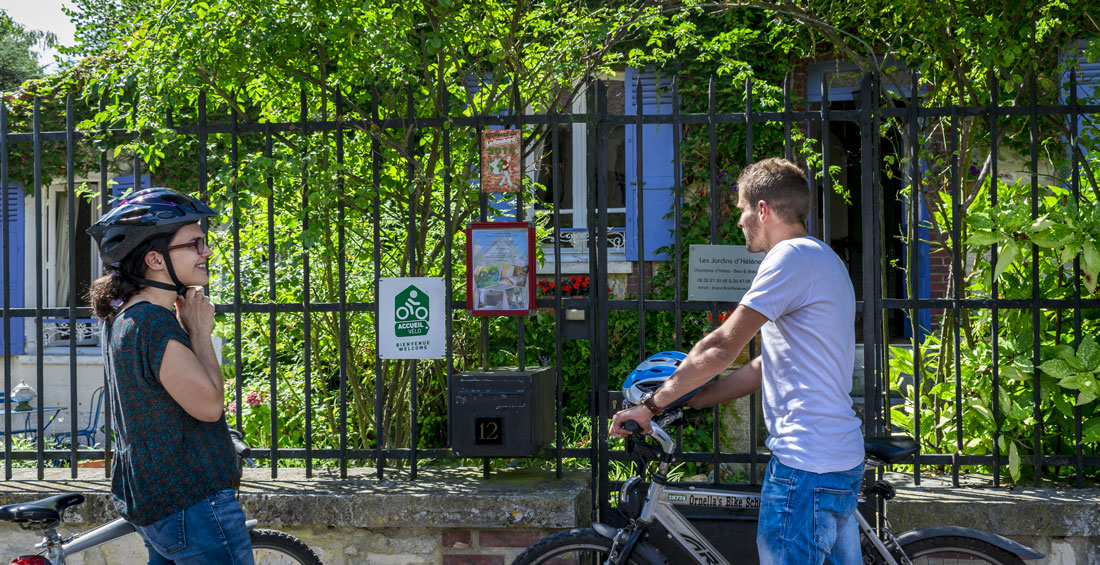 Accueil Vélo-accredited partners
Find the list of Accueil Vélo-accredited partners to help you plan your cycling trip in the Eure. This list provides a speedy way of choosing, for example, an accredited accommodation provider beside the Seine, a well-equipped address for a maintenance pitstop on your family trip, or a link from one stage to the next on your cycling adventure.
Bike rental and repair companies
The Eure is a perfect place for heading out to explore the countryside by bike. Consult the list of companies renting out bikes, mountain bikes and electric bikes around Normandy, matching them up with the sites and places you wish to visit. Bike repairers along the way allow you to tackle our cycle routes with peace of mind should you experience any technical problems with your cycling equipment.