Feel the need to unwind? Then we can propose the perfect Normandy weekend break for you! Follow us across 48 hours, exploring the charming town of Bernay, in the heart of Normandy. Just 1hr 30mins from Paris by train, Bernay makes a perfect destination for immersing yourself in archetypal Normandy. Awarded Ville d'Art et d'Histoire status for its riches, the little town is packed with history, well-preserved architecture and unspoilt landscapes. So, take a peek at what's on offer on a weekend in Bernay.
---
Day 1: strolling, shopping, savouring…
Once you've left your luggage at your accommodation (at the end of the article we'll give you suggestions for places to stay), head for Rue Thiers on market day (Saturday). The well-stocked stalls spread out from the church of Sainte-Croix to Place Paul Derou. Stroll along, admiring the tempting shops as well as the stalls, which include small producers selling seasonal fruit and veg, fish and seafood from the Normandy coast, raw-milk Normandy cheeses and regional charcuterie.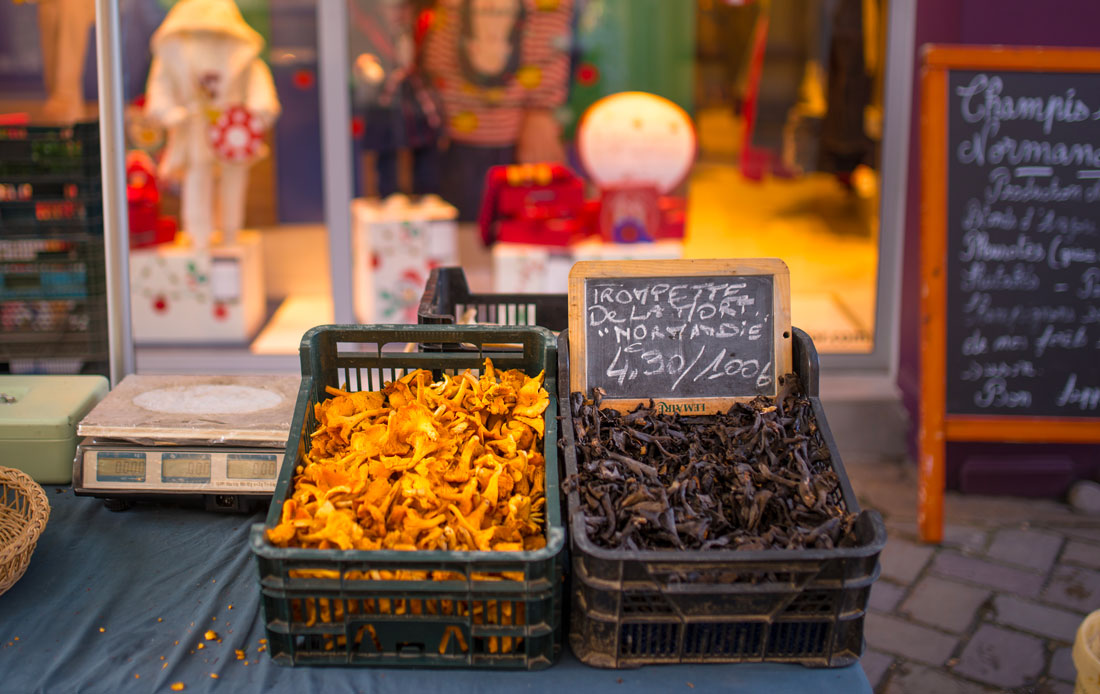 ---
Get your taste buds racing
As you walk around, one sign may draw your attention, for the charcuterie and delicatessen Au Cochon d'Or. It has brought up to date the terrine du Père Michelot, following a recipe from 1920, drawn from the secret recipe books of the former president of the charcutiers of the Eure who invented, compiled and kept notes on his concoctions in his precious notebooks. Also be tempted by the other house speciality, black pudding with scallops  – you see, you really can sample authentic Normandy in Bernay! 
Continue your tour by admiring the traditional timber-frame houses that line so many of the lively streets in the town centre. Stop at the Cellier Bordelais, a reputed delicatessen where you can buy cider, apple juice and other Normandy specialities such as teurgoule, a traditional Normandy rice pudding, along with hampers.
On Rue du Général de Gaulle, a lovely shop, Esprit de Château, specialises in tableware, presenting many marvellous articles, such as ceramics from Gien on the Loire or from Italy, wild cherry furniture, pottery guineafowl from Lussan in the Languedoc, or Sophie de Boissieu tablecloths…
---
A lunch stop in a friendly place
Rendez-vous dans la rue Gaston Folloppe, dite rue à maisons de pans de bois. Cette rue est une vraie perle d'architecture : les demeures médiévales rivalisent en colombages et les échoppes regorgent d'objets à chiner. Justement, avant d'attaquer la chasse à l'objet, accordez-vous une petite pause pour déjeuner au « Bistrot » ! Ce restaurant bien connu des bernayens, accueille ses hôtes dans un cadre cosy et historique (la maison, ancienne cour des miracles, est du 15e siècle), avec une agréable terrasse dans une cour intérieure. Les propriétaires proposent une carte alléchante. Spécialités de foie gras, fricassée d'escargots au camembert et calvados, tartiflette viroise… vous vous régalerez d'une très bonne cuisine du terroir.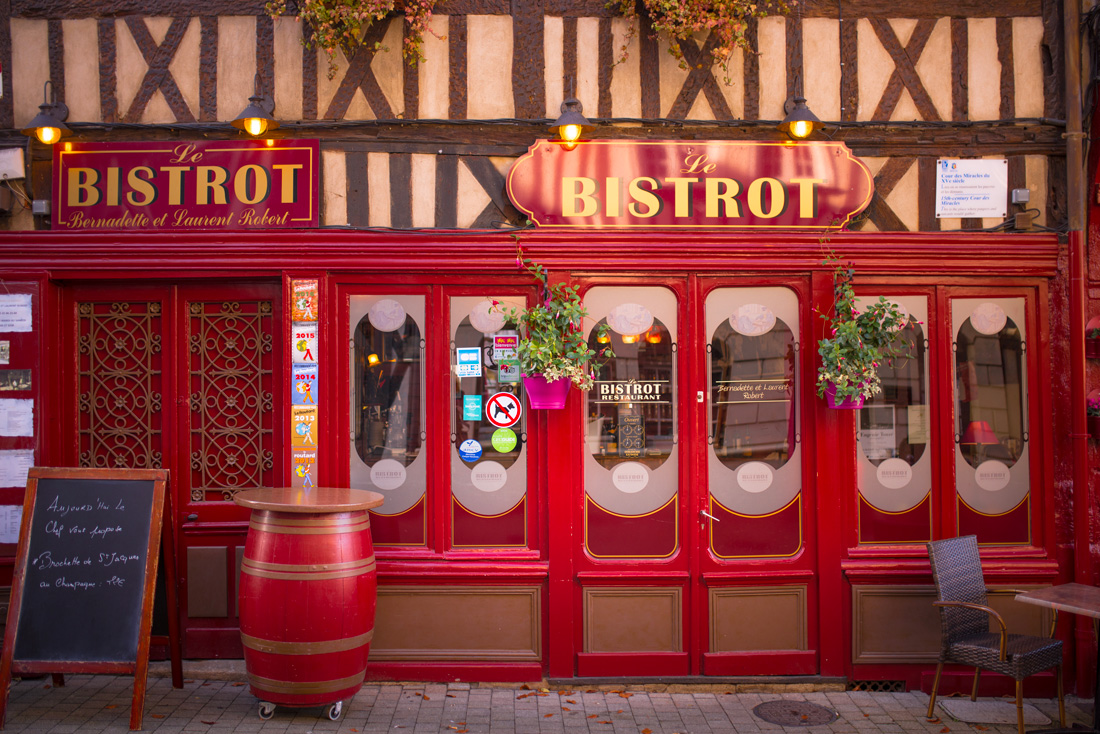 ---
A Normandy town packed with little gems to seek out
Continue on to Rue Gaston Folloppe, known as Timber-frame Street! It's an architectural gem, the half-timbered houses dating back to medieval times as appealing as the stores with their appealing items on display. Before heading into the boutiques, allow yourself time to eat at Le Bistrot. This restaurant is well known to locals, presenting an historic and cosy setting. The house dates back to the 15th century and was notorious for a time as a den of thieves; now, it offers a lovely terrace in its inner courtyard.  The owners propose tempting menus. With such specialities as snail fricassée served with camembert and calvados or a tartiflette viroise (a lighter form of pizza served with regional ingredients), savour delicious regional cuisine here.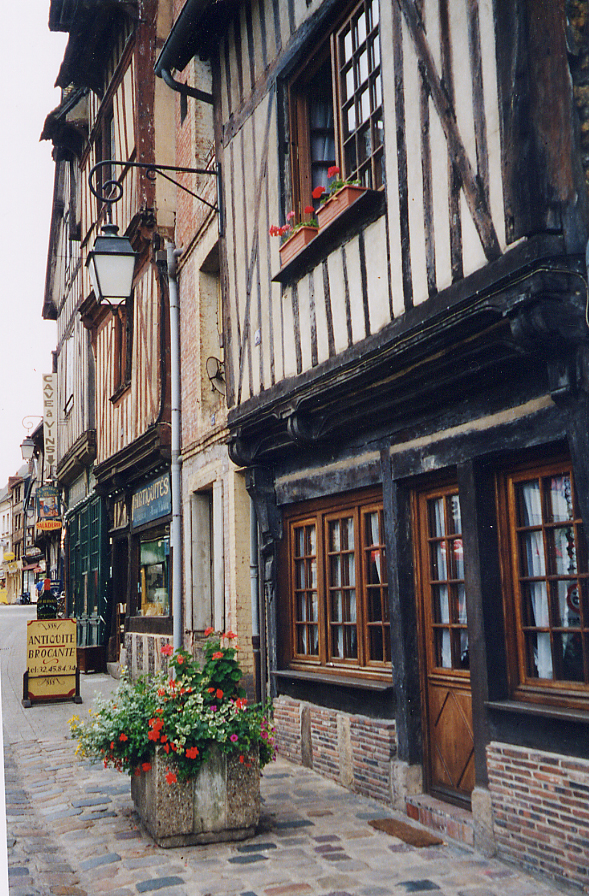 Having picked up a few delightful items, why not continue on to La Palette de Thé. This is a lovely spot for a light bite or home-made cake served with tea in a warm and friendly atmosphere. Plus, you can buy some culinary souvenirs here too.
After enjoying a day full of discoveries, before you know it, it's time to settle down to a glass of wine* to accompany a fine meal – yes, we do like to eat well here in Normandy! You might try the Brin D'Zinc, once again on Rue Gaston Folloppe. This restaurant is decorated with second-hand objects, tables and mismatching chairs. This joyous mix gives the place great character that appeals to different generations, meeting here for a glass or even a concert.
---
---
Day 2: A Cultural Sunday
After an easy start to the day lingering over a fine breakfast, time to discover more about this typical Normandy town. Take the leaflet explaining the circuit L'eau, la pierre et le boisé (Water, stone and wood) and follow the explanatory panels for almost two hours, exploring this enchanting town, going down winding medieval lanes such as Rue de Geôle, seeking out colourful timber-frame houses, decorated porches and little washhouses beside the Cosnier and Charentonne rivers.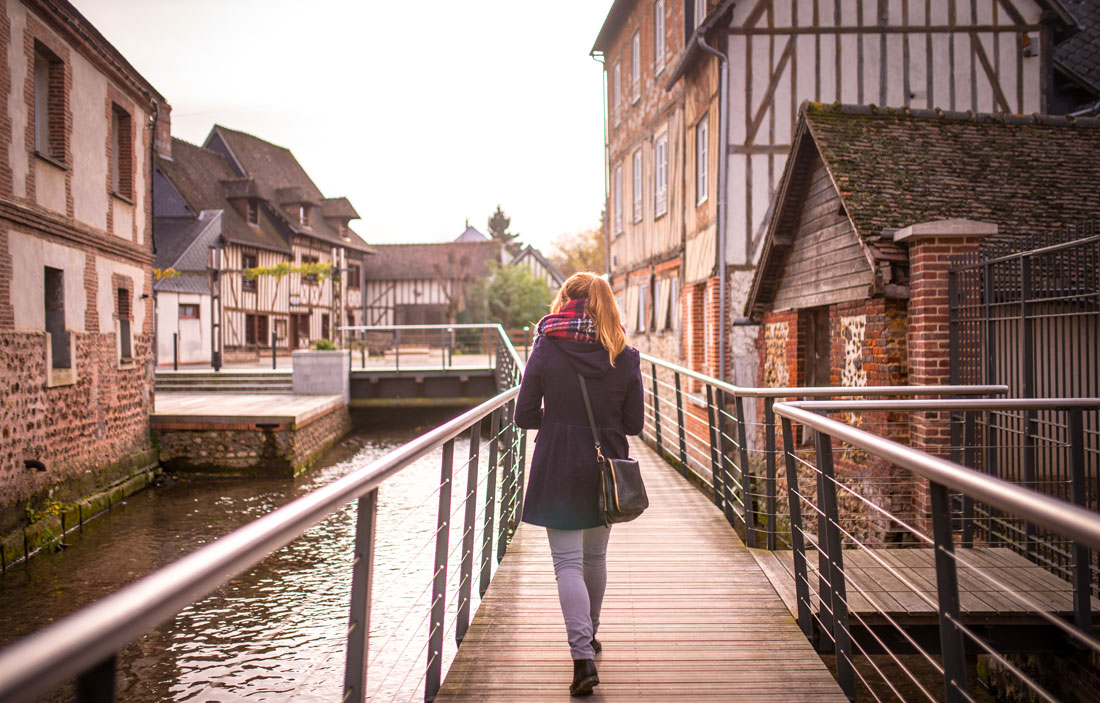 The town's abbey church is without doubt one of the highlights of the tour. In architectural history, it marks the beginning of the Romanesque style in Normandy. In this edifice, many new architectural techniques of early medieval times were experimented with. The large nave, its arches and their Corinthian capitals sporting strange carvings, as well as the diversity and wealth of the interior decorations, prove exceptionally beautiful. Exhibitions are also regularly put on inside.
For a final meal in Bernay, head to Rue Robert Lindet and the restaurant Le Clos Normand. This restaurant stands opposite the abbey church. The chef, Christophe Rabault, learnt his trade with some of the greats. One of his signature dishes is oeufs en meurette, a delicious classic combining eggs and red wine. 
If you have a bit more time on your hands, continue on to the Musée des Beaux-Arts to take in its collections of paintings, sculptures and Rouen faïences, as well as archaeological items. The Laval Room with its well-preserved parquet flooring and wood panelling is particularly remarkable.  
Depending on the weather and when you have to leave our lovely Eure town, what about a country walk close to the town centre. The Voie Verte or greenway linking Bernay to Broglie follows a former railway line transformed into a path for walkers and cyclists. As to golf enthusiasts, there's a 100% ecological golf course nestling in the valley that has been listed as a Natura 2000 site. 
What with its fine shops and restaurants, culture at every turn, authentic Normandy flavours to savour, and heart-warming human and cultural encounters on the cards, Bernay makes a perfect town for a short break not too far from home.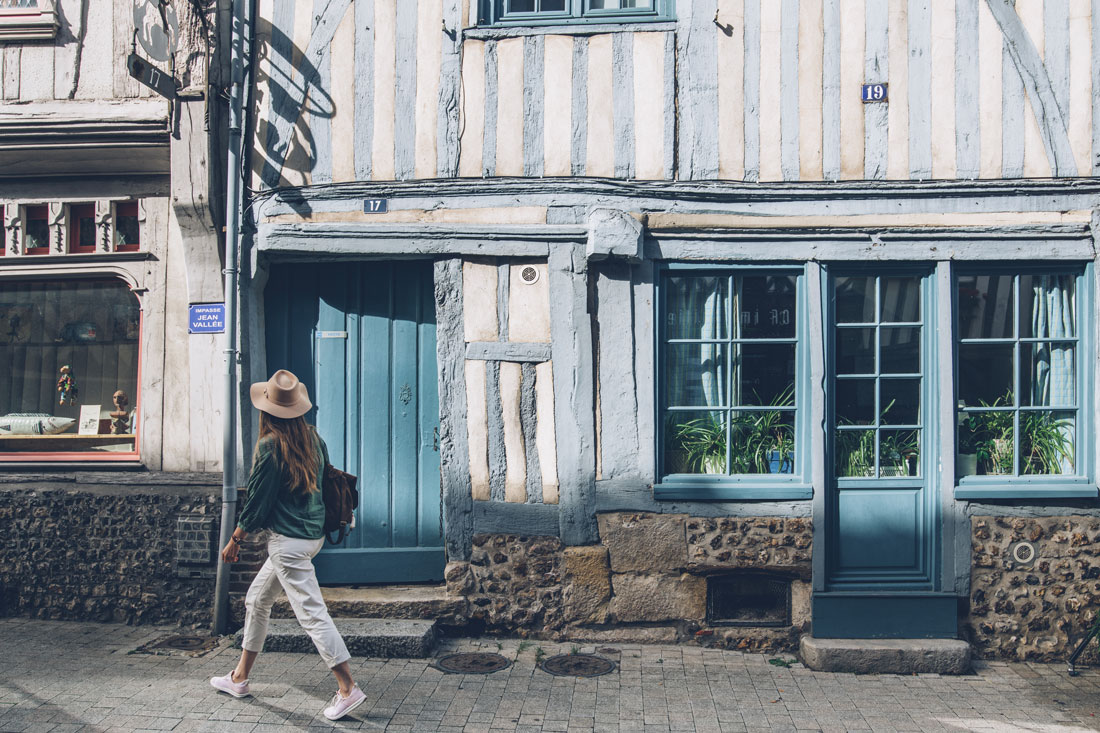 ---
Some suggested addresses
Where to stay 
B&B, La Ferme en ville, 428 rue de Saint-Nicolas 
B&B, La Glycine, 22 rue Alexandre
B&B, Les Aulnes, 1 rue Judith de Bretagne
Where to eat
Le Bistrot, 21 rue Gaston Folloppe
Le Brin d'Zinc, 32 rue Gaston Folloppe
Palette de thé, 12 rue du Général Leclerc
Le Clos Normand, 5 rue Robert Lindet
Where to go shopping 
Le Trèfle Bleu Décoration, 7 rue de Morsan
Palette de thé, 12 rue du Général Leclerc
Librairie Le Rouge et le Noir, 22 rue Gaston Folloppe
L'Atelier des rêveurs, 13 rue Gaston Folloppe
Les Antiquaires de la rue Gaston Folloppe
Cacao story, 3 rue Albert Parissot