The apple was already familiar to the Ancient Egyptians and Greeks. In medieval times and via the crusades, it was introduced into Normandy. The fruit began to be used notably to make cider, which gradually replaced the ancestral Gaulish and Viking beer, or cervoise. Apple trees, from the spring explosion of little pink and white blossoms to their autumn fruits, add delightful gentle dashes of colour to Normandy's landscapes, their apples then transformed into divine nectares used to make delicious regional produce. Boasting over 200 varieties of apples suitable for cider-making, the culture of apple-growing in Normandy continues to thrive thanks to a cider sector that has proved remarkably dynamic. One sign of this is the number of specialist producers from the Eure who win medals every year at the prestigious Concours Général Agricole agricultural show. Go on, explore the Eure's apple routes, or chemins de la pomme!
---
Traditional Normandy specialities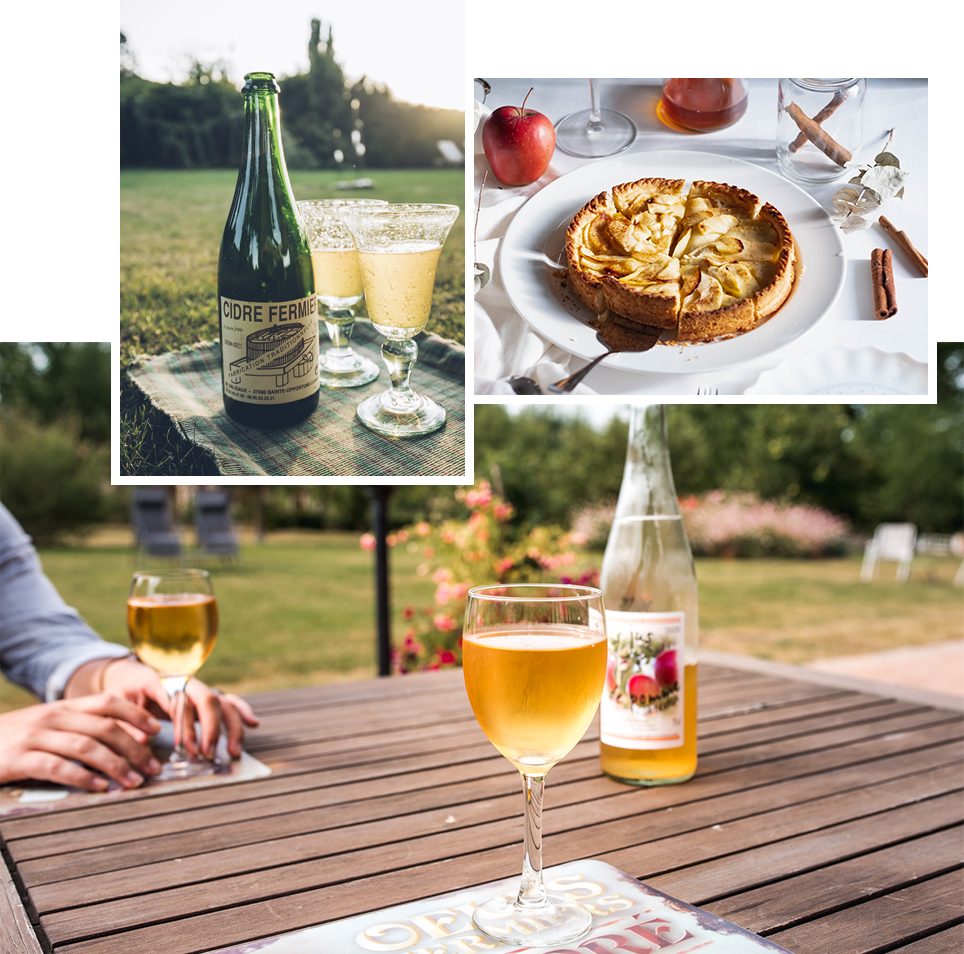 Apple juice with a distinctively fruity flavour, made using both juicing apples and cider apples that are carefully selected and skilfully blended. 
Normandy craft cider with its golden colour and low alcohol content. Our dry, sweet and medium-dry (brut, doux and demi-sec in French) versions are made by fermenting apple juice.  
Calvados, Normandy's iconic digestif, produced by distilling cider, with the resulting alcohol then aged in oak barrels that impart a lovely amber colour. It is sometimes served here as a palate cleanser during a meal, a shot of it presented with or without a scoop of apple sorbet. This Normandy gastronomic tradition is known as a trou normand,or Normandy pause, and is said to help the digestion and sharpen the appetite! 
Pommeau de Normandie is a skilful combination of apple juice made from cider apples and Calvados spirit. This tipple was invented in 1948 in Pont-Audemer, a fortified old town on the Risle River. Thanks to the efforts of its inventor, Edmont Chort-Mutel, pommeau was granted its own appellation d'origine contrôlée, or AOC, status in 1991. 
Normandy apples can also be sampled in a whole host of ways and forms, on our farms and at our cider-making producers, in our restaurants and via our boulangeries and groceries, in Normandy tarts and tartes tatin, in biscuits, jams, jellies, compotes, vinegars and even confit, in sparkling or still drinks…  Apples add their distinctive flavours to dishes such as escalope à la normande, rabbit in cider, or chicken served Vallée d'Auge style, appreciated by foodies and gourmets who love Normandy gastronomy.
---
Ciders given a new twist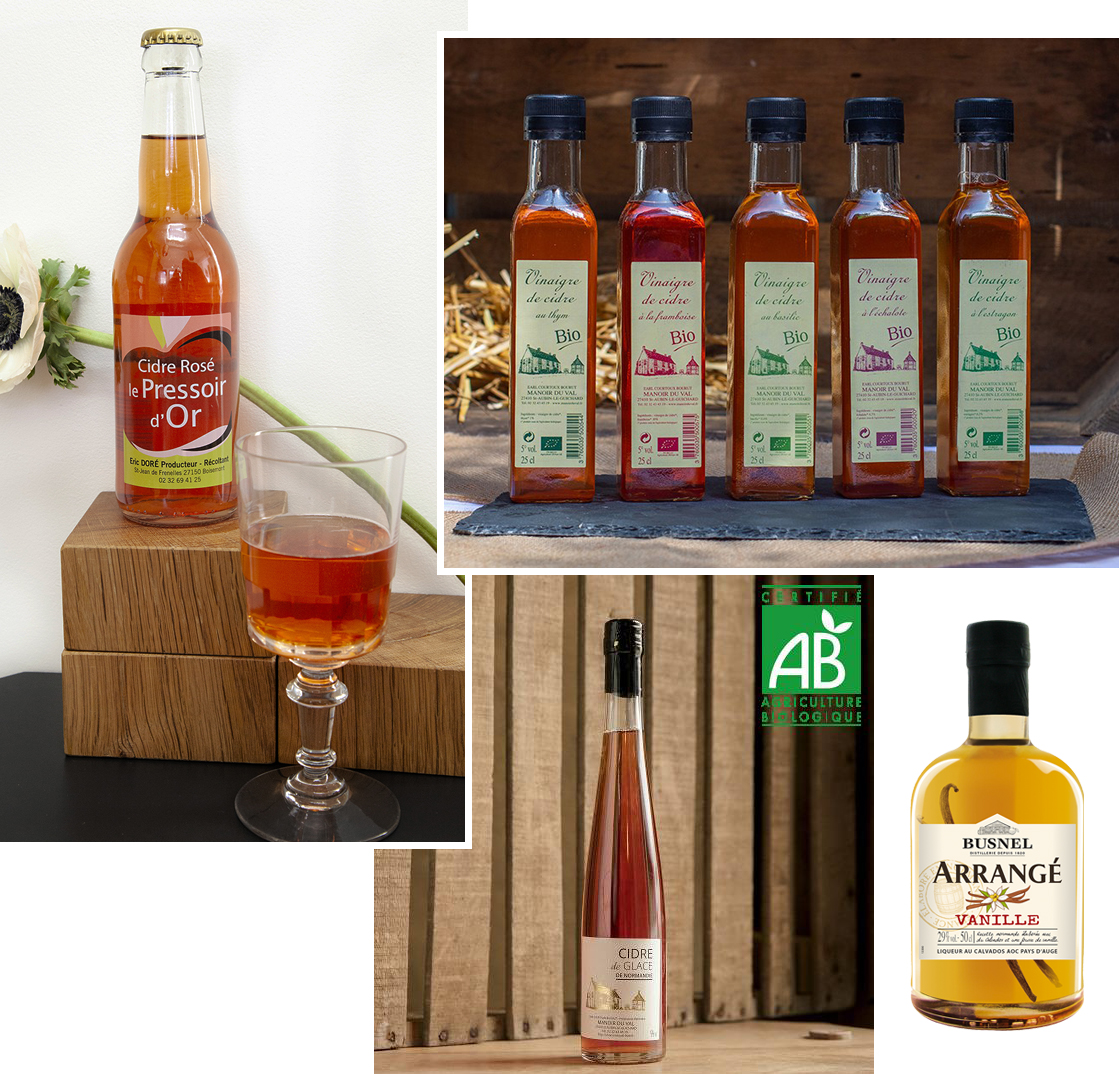 Rosé cider, made from unusual apples with a red flesh. Imported from Canada, this extraordinary blood apple with its marked acidic flavour is transformed into cidre rosé. It's now produced on several cider farms around the Eure whish are successfully replanting parts of their orchards with this different variety. Rosé cider makes a perfect aperitif or goes very well with Normandy-style puddings. 
Ice cider: this aperitif was brought over from Quebec and is made using sweet cider in the early stages of fermentation. It's then frozen in order to separate the water from the alcohol. Only the liquid part, so the alcohol and the sugar, is kept in order to create the rich flavour of this kind of cider. Ice cider can be enjoyed as an aperitif or goes well with certain dishes, for example foie gras, if you appreciate that.
Calvados-based alcoholic drinks: flavoured rums are familiar to most; now you can also find Calvados drinks infused with different flavours. Produced with Calvados AOC (Appellation d'origine contrôlée) Pays d'Auge, the producer Busnel makes concoctions in which fruit and other flavours are added by hand to the spirit to impart an exceptional taste. Try the flavours of Calvados mixed with bananas, pineapple, vanilla, or orange-coffee, the last awarded gold at the 2020 World Liqueur Awards.
Cider vinegars, providing surprising flavours: cider vinegar has long been used in cookery and is said to have many health properties. At Le Manoir du Val, Marie Bourut proposes a whole range of original, unique cider vinegars infused with a variety of flavours, such as thyme, basil, raspberry, honey, shallots, garlic or even saffron.
---
La Normandise, paying homage to Pommeau Normand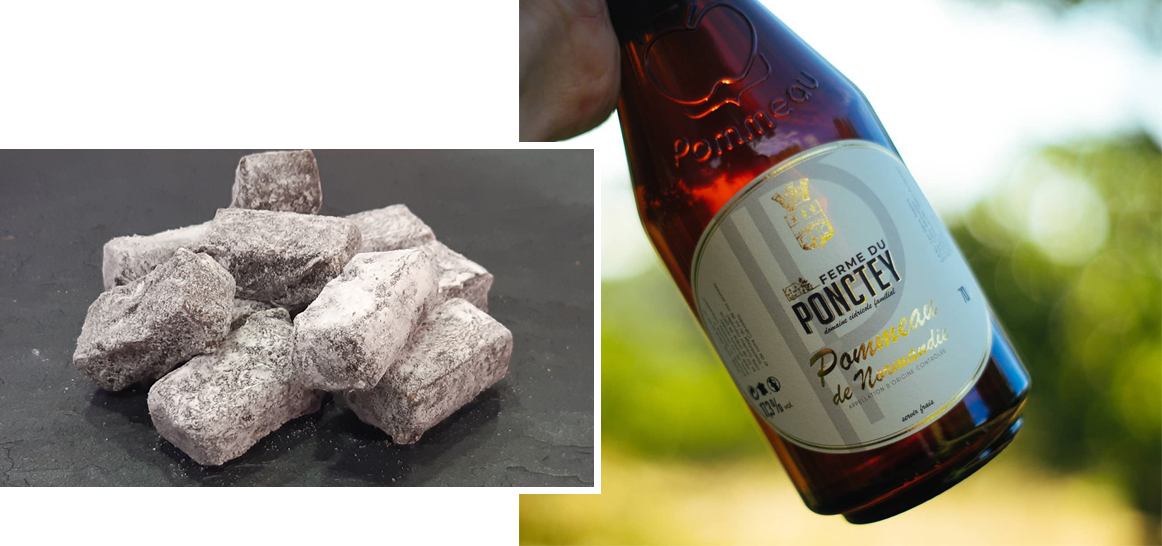 In the town of Pont-Audemer you'll find a craft chocolatier full of creativity. Having already given the well-known Mirliton de Pont-Audemer a modern twist, he has now created the Normandise, a ganache chocolate speciality flavoured with pommeau from the Ferme du Ponctey. Over to foodies to give their opinions on it after a tasting! To discover more, click here!
---
That lovely scent of apples in many Normandy recipes!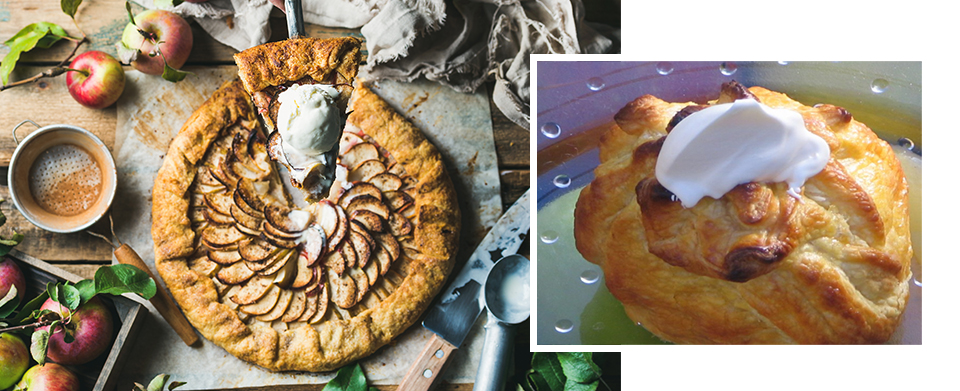 Relish Normandy gastronomic specialities via our recipes making the most of fine apples:
douillon aux pommes – a delicious traditional Normandy pudding
typical Normandy tea-time treats for kids: apple tart, salted caramel and apple juice
Auberge de la Pomme autumn recipe – Lotte petit bateau, or monkfish poached in a broth of cider, ginger, garden apples and mushrooms.
Many producers around the Eure welcome visitors year-round via dynamic networks, notably Bienvenue à la Ferme and C'est Fait dans l'Eure. Visiting these places, you'll find a range of products on offer, from ciders and apple juices to beer, from meat and charcuterie to fruit and veg, not forgetting local cheeses, cream and butter, along with other Normandy specialities. One further tip for buying Normandy regional produce directly from the farm, but online – Les Fermes d'Ici !