Every year, the county of Eure in Normandy puts on new, striking events, shows and cultural happenings. Make the most of a weekend break or your holidays in this part of Normandy during 2022, booking for events that appeal. We've selected the highlights through the seasons. Look at what's on; this promises to be an exciting year in terms of events in the Eure.
---
Monet/Rothko exhibition at the Musée des Impressionnismes Giverny, in the heart of Monet's village
As far as cultural events in the Eure in 2022 are concerned, this will certainly be among the bestsellers! The famed Giverny museum, for its spring reopening, is putting on a rare, totally engaging show. Here, the indisputable Master of Impressionism will face up to the King of Abstraction. The museum will mix up 12 works, inviting visitors to contemplate them with awe. Observing their similarities and contrasts, you'll be entranced by these exceptional pieces.
Organised by the Musée des Impressionnismes Giverny, the selected works of these two great artists will be displayed in Claude Monet's village from 18 March to 3 July 2022.
Prices: €9 for adults – Free entry for children
---
Rock In Evreux – 24, 25 and 26 June 2022

Evreux hosts one of the earliest summer music festivals in France, offering a great way to kick off the festival season. This is the 5th edition of one of Normandy's largest festivals. Look out for some great concerts during this musical long weekend. Choose from artists representing different genres, ranging from pop, rock and hard rock to rap, electronic music and other contemporary sounds.
After two years marked by the tricky health situation, rediscover the pleasure of singing and dancing as you watch a whole host of artists who will get you in the festival mood. IAM – Mosimann – Klingande – Superbus – Bakermat – The Last Internationale
24, 25 and 26 June 2022 at Evreux racecourse
Prices from €38 for a one-day pass
---
Biotropica celebrates its 10th anniversary at Val de Reuil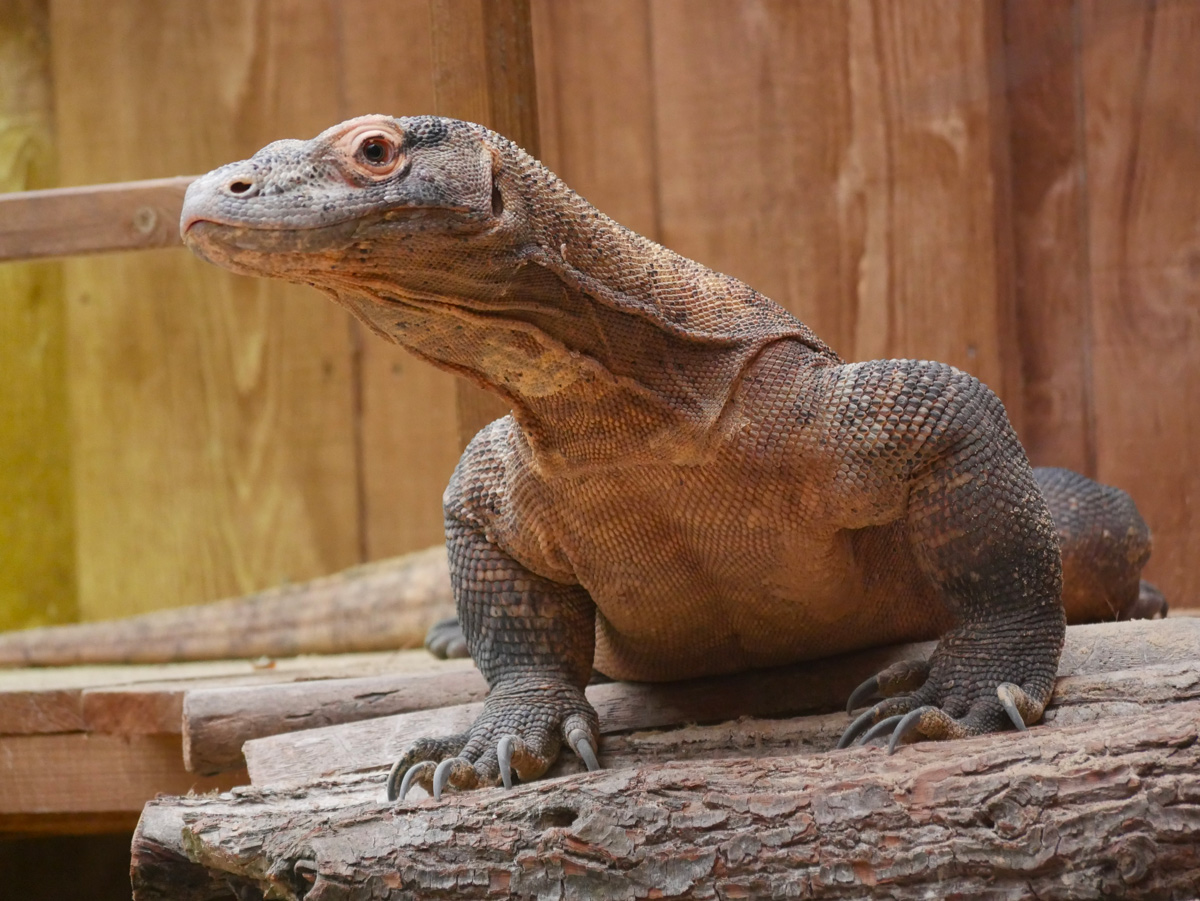 Biotropica, the Eure's zoological park, has become one of Normandy's most visited sites. Head here to see penguins, cheetahs, wallabies, red pandas and many other extraordinary animals. The wild creatures are divided into seven extensive spaces, each evoking a different part of the world. Activities are available for those who wish to learn more about the fantastic array of creatures here. Maybe celebrate your birthday amidst the wild animals, or take part in feeding time. Or then prolong the pleasure of your visit by staying the night just two minutes by foot from Biotropica, in the heart of the Parc de Loisirs de Léry-Poses, a major outdoor leisure centre. You'll quickly realise that there are lots of things to discover at Biotropica zoological park.
Prices: €14.50 for adults – €10.50 for children – Free for children under 3 years of age
Reduced prices for the handicapped– Group tarif available for over 20 people +
---
Celebrate Easter at the Château de Beaumesnil in Mesnil en Ouche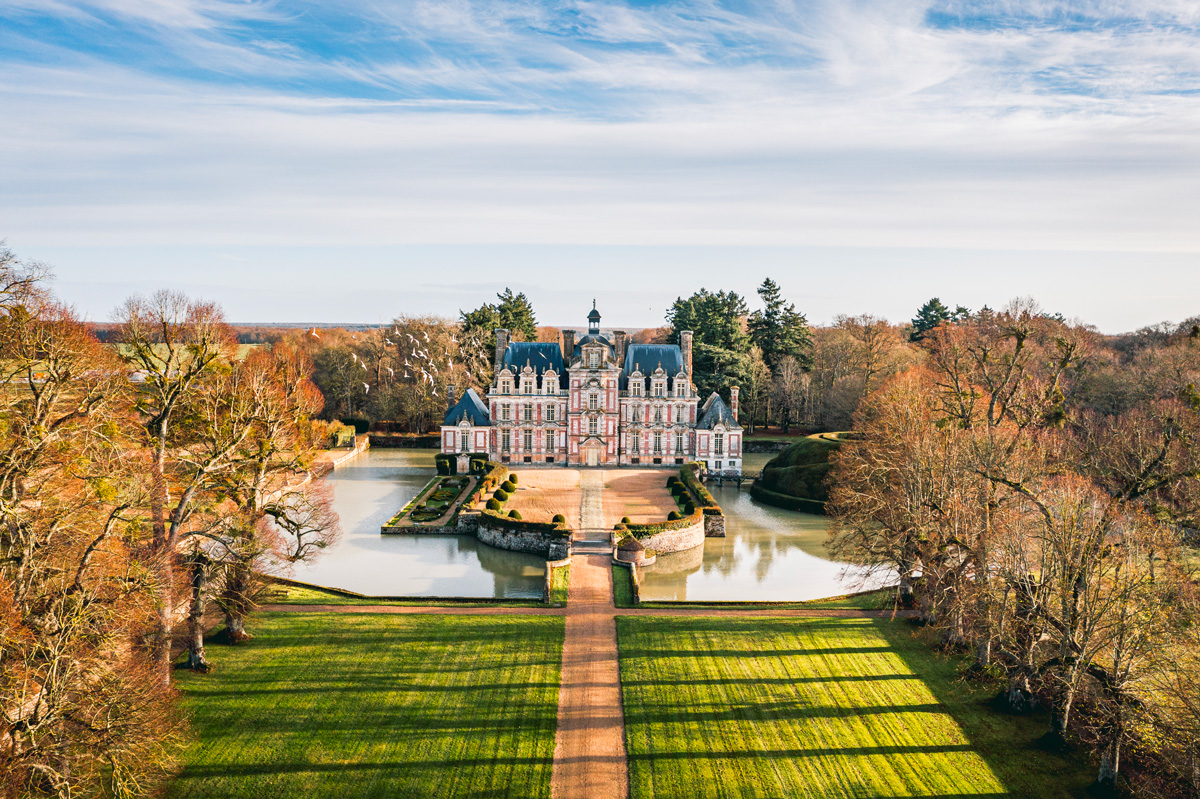 ''We can hear the sound of bells!'' It's rumoured that Easter eggs have rained down on the Beaumesnil estate. Across three days, families can come in search of them, embarking on an Easter Egg Hunt. Children and adults alike will have great fun searching in the formal French-style garden and the English-style grounds at this splendid château in Mesnil-en-Ouche. Don't get too distracted to make sure you get your chocolaty treats!
Prices: €7 for those over 12 years old – €4 for 4 to 11 year-olds – Free for under 4s
Lasts: 1hr – 1hr 30mins
---
Les Médiévales and Les Automnales at the Domaine d'Harcourt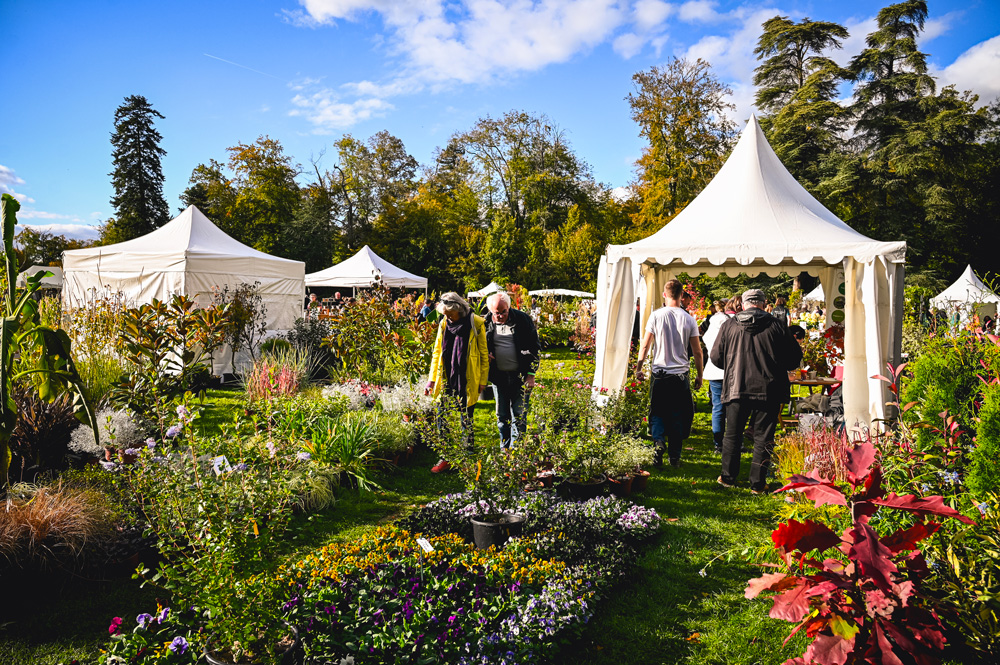 The Domaine d'Harcourt welcomes visitors for these two major events in the Eure in Normandy.
On 30 April and 1 May, marvel at the medieval extravaganza put on during the Les Médiévales d'Harcourt, held just beneath the castle. Stallholders, craftspeople and knights will travel as much as 900 years forwards in time to enable you to rediscover their skills. Immerse yourself also in the world of knights and their majestic jousts. While on the medieval theme, delight in other annual events in the Eure celebrating medieval times, costume and more – consult our website.
On 22 and 23 October, witness a completely different atmosphere at Les Automnales d'Harcourt. Plant collectors and professionals from garden nurseries and centres present visitors with an exceptionally wide array of plants, shrubs and trees. The green-fingered will leave with bulbs and rare plants, as well as fabulous images of the park. It's also a great time to visit one of France's most beautiful arboretums, located just a few minutes from the gorgeous village of Le Bec-Hellouin.
Médiévales d'Harcourt : 30 April and 1 May 2022
Automnales d'Harcourt : 22 and 23 October 2022
---
Ortie folie and the Festival du Lin on the Plateau du Roumois
What if the dreaded nettle were in fact a plant to adopt to improve your daily life? To discover the many potential uses of the humble nettle, we invite you to come to the Festival de l'Ortie in La Haye-de-Routot. Events on the day include a botanical walk, lectures, workshops for children, a tour of the local museum, professional advice on growing nettles and cooking with them, plus a themed market.
Sunday 3 April 2022
For further information, tel 02.32.57.35.74
---
The Festival du Lin, or Flax Festival, in the Eure in Normandy takes place every year not far off. On the menu in order to learn all about this extraordinary plant with its lovely blue flowers: events based around its natural fibres, such as weaving and tapestry-making; an educational tour of the flax cooperative; culinary demonstrations; tastings of related linseed products; and a linen fashion show!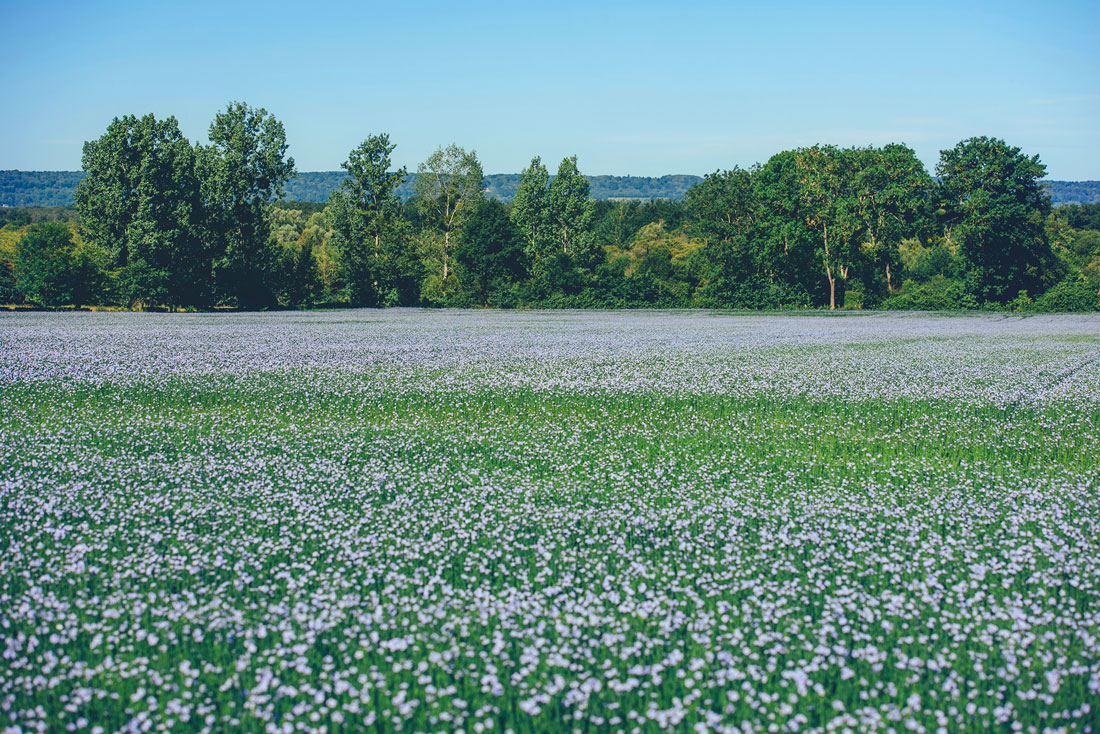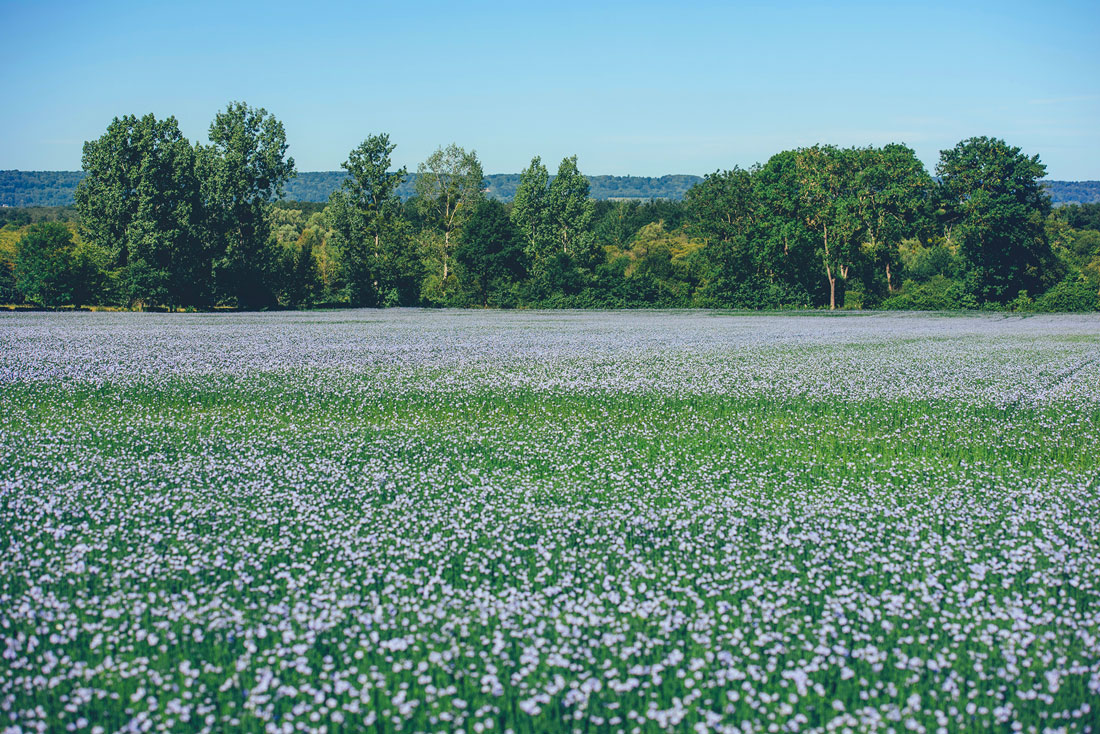 Sunday 12 June 2022
For further information, tel 02.32.56.21.76
---
53rd cultural season at the Château de Vascœuil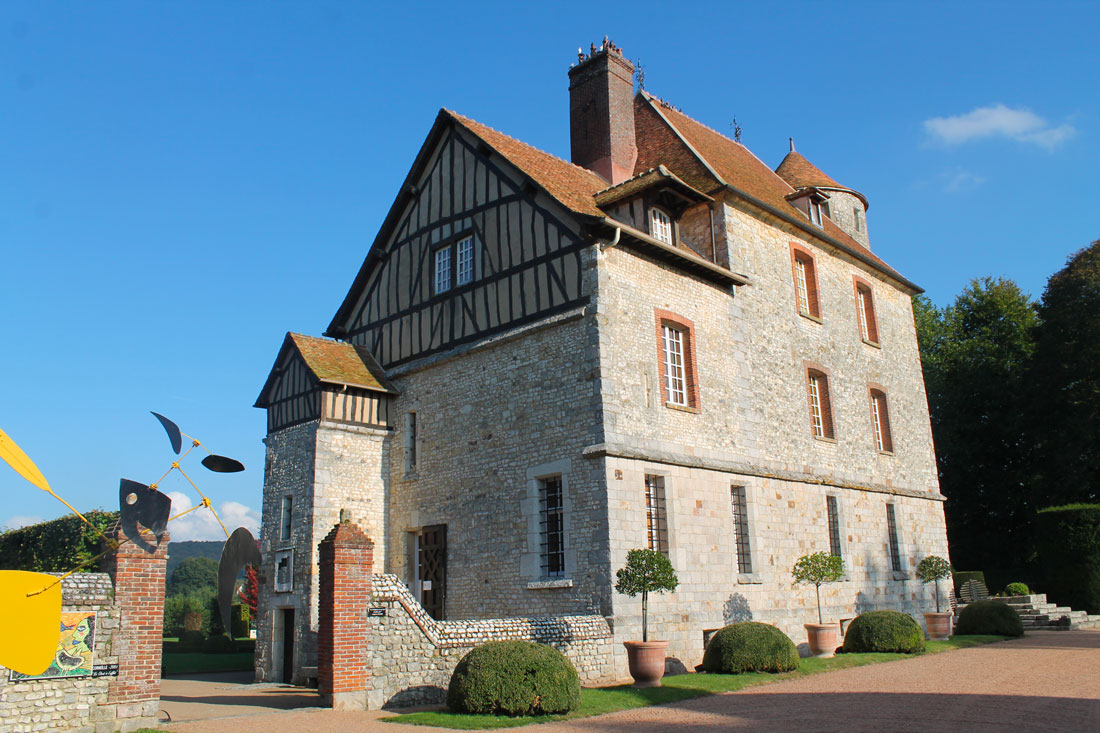 In the heart of the countryside, the stunning Château de Vascœuil dominates its corner of the Eure. It's a place that focuses both on history and on art. From 16 April to 13 November, you can visit the castle, the dovecote and the French-style and English-style gardens. In the midst of the grounds dotted with contemporary sculptures you'll find the museum and its exhibition. For a sweet pause, stop at the tea room. In addition, occasional events add to the attractions of the cultural season here.
From 16 April to 13 November 2022
Prices: Free for under 7s – €7 for 7 to 17 year-olds – €12 for adults
---
The deer rut at Beaumont le Roger
Marvel at a natural autumn spectacle to be observed in Beaumont le Roger Forest close to the historic town of Bernay, following the tracks of deer with experts. You'll have to be quiet, on the look-out, blending in with the flora and fauna… then there's a chance you'll be rewarded, witnessing the extraordinary deer rut.
You need to reserve places in advance to participate in this activity
For further information here
---
The Fête de la Pomme in Conches-en-Ouche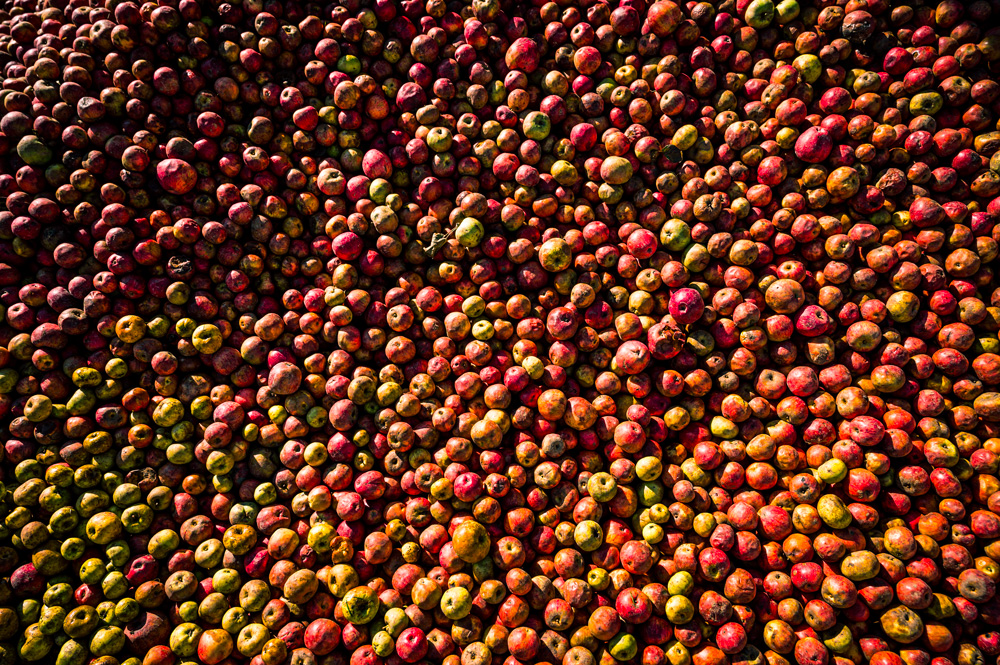 This apple festival is an unmissable event in the Eure in Normandy if you're here at the right time in autumn! The last Sunday in October has become a key date for local craft producers and an emblematic event for Normandy's terroir generally. The varied activities include: tastings; demonstrations of apple-related skills; the showing of farm animals; performances by folklore groups; and games and competitions. One thing is certain – you won't leave feeling hungry, what with all the apples, cider and cheese on offer at the Fête de la Pomme!
---
The Fête de la Bière and Fêtes Normandes in Evreux
Every October, the beer festival in Evreux attracts more and more visitors, the event including folk music and hearty dishes to accompany the beer, all creating a welcoming atmosphere. The cultural life of the Eure's capital is also on show. What with all the concerts, pretzels and choucroute on offer, you'll soon be into the swing of this festival.
Evreux also hosts the Fêtes Normandes in October. Every year, a different theme and Normandy town are highlighted. Hundreds of participants and thousands of visitors come to make the most of the artistic shows and discover the chosen theme. A whole host of activities and games are put on.
---
---
Pierres en lumière and European Heritage Days around the Eure
Discover the Eure's heritage in more depth thanks to these two events. Our beautiful county of Eure is packed with historic heritage of the first order. Pierres en lumière is a magical event during which several sites around the county are lit up with projectors across a number of weekends. Discover or re-discover these edifices in a new light.
To delve further into the Eure's heritage, we invite you to make the most of the European Heritage Days. On 17 and 18 September 2022, the county of Eure opens the doors to its exceptional gardens, abbeys, châteaux, churches and historic monuments. On that weekend, certain craftspeople and people involved in heritage-related professions also open their doors to show visitors their skills via demonstrations and workshops.
---
Equestrian trek at Broglie
An equestrian trek will take place 30 September and 1 and 2 October 2022 in the town of Broglie, near Bernay.
More information to follow shortly
---
Due to the health crisis, we invite you to check with the organisers about maintaining or postponing events.