Make the most of a weekend to get away from it all on a romantic break in Normandy. Head for Lyons-la-Forêt, a well-deserved member of the association Les Plus Beaux Villages de France. Stroll hand in hand through its picture-postcard settings, what with all its traditional timber-frame houses and lovely boutiques. On this break in the Eure, appreciate a perfect balance between pampering relaxation and an escape to the country. Leave the everyday modern world behind as you enjoy your traditional Normandy weekend in Lyons-La-Forêt.
---
Day 1: destination Lyons-la-Forêt, one of Les Plus Beaux Villages de France in Normandy
First stop on this Eure break, the village of Lyons-la-Forêt itself, located in the northeast of the county between the Andelle Valley and the plateau of the Vexin Normand area. Set within the largest beech forest in Europe, this lovely spot was made famous in France when it served as the backdrop for the film of Madame Bovary by famed director Claude Chabrol.
---
A morning seeking out designer delights close to Lyons-la-Forêt
If you're into your interior decoration and design, then these two days in the Lyons-la-Forêt area are perfect for you, allowing you to seek out original items in the surrounding villages. At the Sortie d'Usine shop in Morgny, you'll find many post-war industrial-style pieces.

In Fleury-la-Forêt, Premier Matin specialises in linen and hemp textile accessories. Or then try the concept store Galerie Adrienne Desbiolles in Lorleau.
A weekend in the Eure's countryside of course involves tasting the delights of our local produce! Savour culinary treats that are both simple and creative. In terms of local and regional produce, Lyons-la-Forêt and its surrounds boast some fine addresses. The Boutique des Saveurs de Lyons opposite the covered market has lots of culinary products on offer, or then, having visited the nearby Château de Vascoeuil, try out the fine products on sale at the grocery store Graine des Champs. Eating well also means supporting short supply chains, which you can do at the farm shop Chez Laure et Paul (Fridays / Saturdays) or then trying the delicious yoghurts from the Ferme des Peupliers at Flipou – apparently, David Beckham, no less, can't resist them!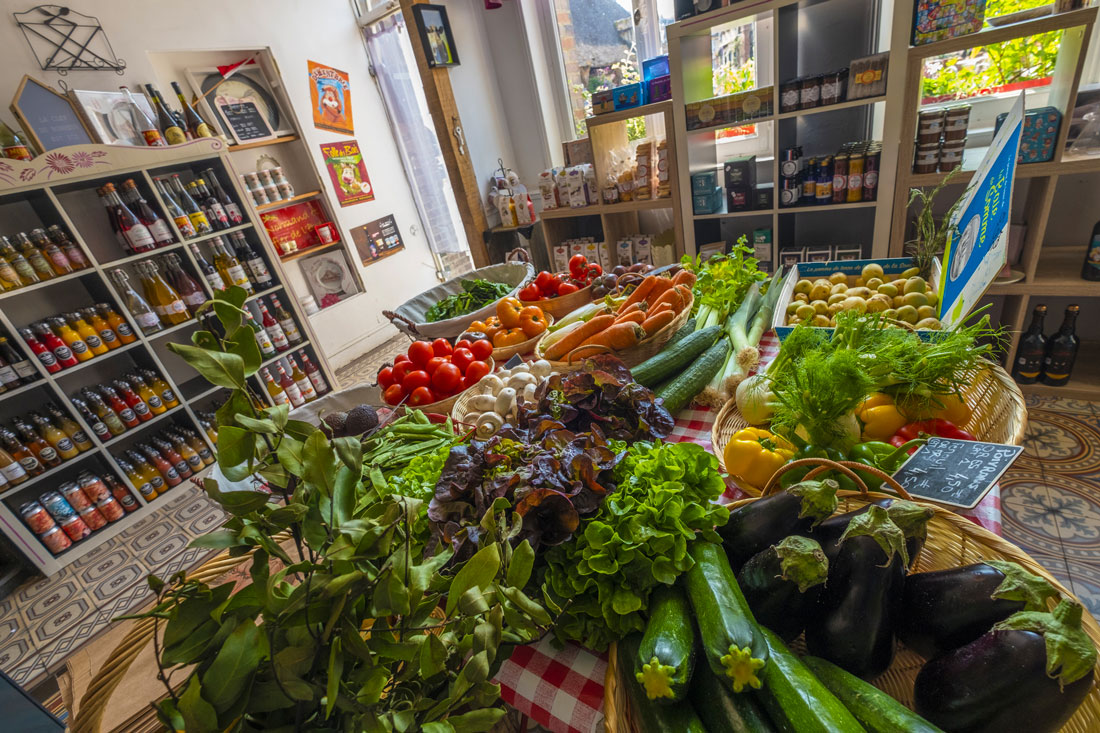 Back with Lyons-La-Forêt itself, do explore L'Empreinte and Jan Brocante not far from the covered market and town hall, as these are two addresses specialising in the likes of old-style furniture, paintings, lighting, toys and many other items.
---
Stroll around Lyons-la-Forêt admiring its filmic timber-frame houses.
Lyons-la-Forêt is perhaps one of Normandy's best-kept secrets no more. Listed as one of Les Plus Beaux Villages de France, this Eure gem provides a perfectly peaceful setting in which to relax on a romantic weekend break. Lyons boasts all the typical features of the finest traditional Normandy villages, with so many half-timbered houses, lovely lanes and its striking 18th-century covered market that still hosts the weekly market. No wonder this place has featured so much on screen, notably in adaptations of Flaubert's iconic Normandy novels.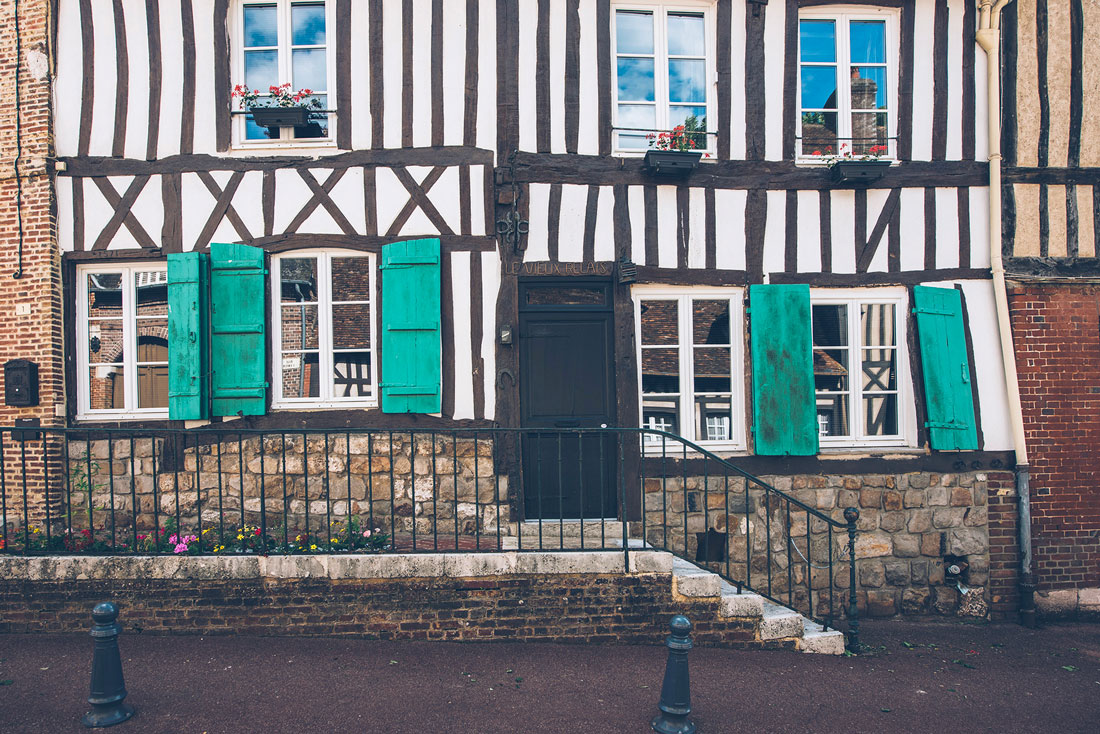 Place Benserade, the square surrounding the listed covered market, has several tempting terraces, including that of the Café du Commerce, at which to linger, drinking in the scene of this now rather chic Normandy village. It's true, the place does draw quite a crowd in summer. In the 20th century, the village attracted remarkable artists in search of inspiration, including composer Maurice Ravel, furniture designer Jacques-Émile Ruhlmann and painter Paul-Emile Pissarro… and artists are being drawn to the place once again.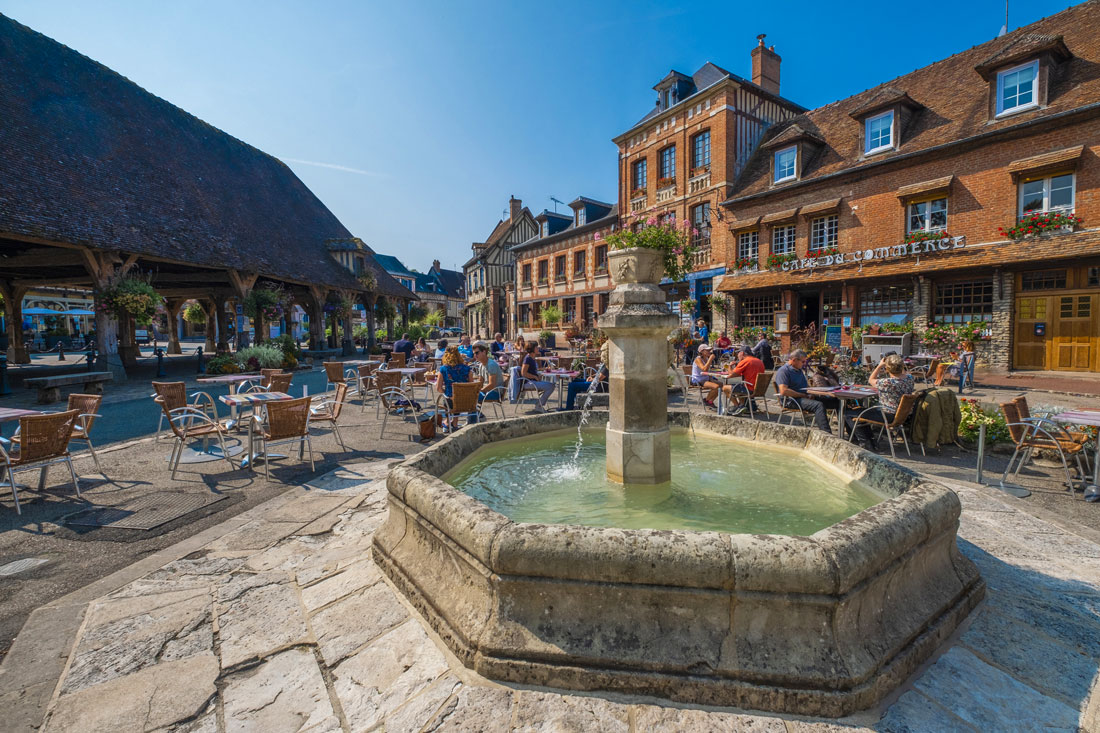 Finish off this first day, after quite a bit of walking, with a moment of relaxation for two at the spa in the Hôtel de la Licorne – Le Grand Cerf. Just let go, enjoying a massage together at the Nuxe spa perched above the village centre in this highly regarded establishment.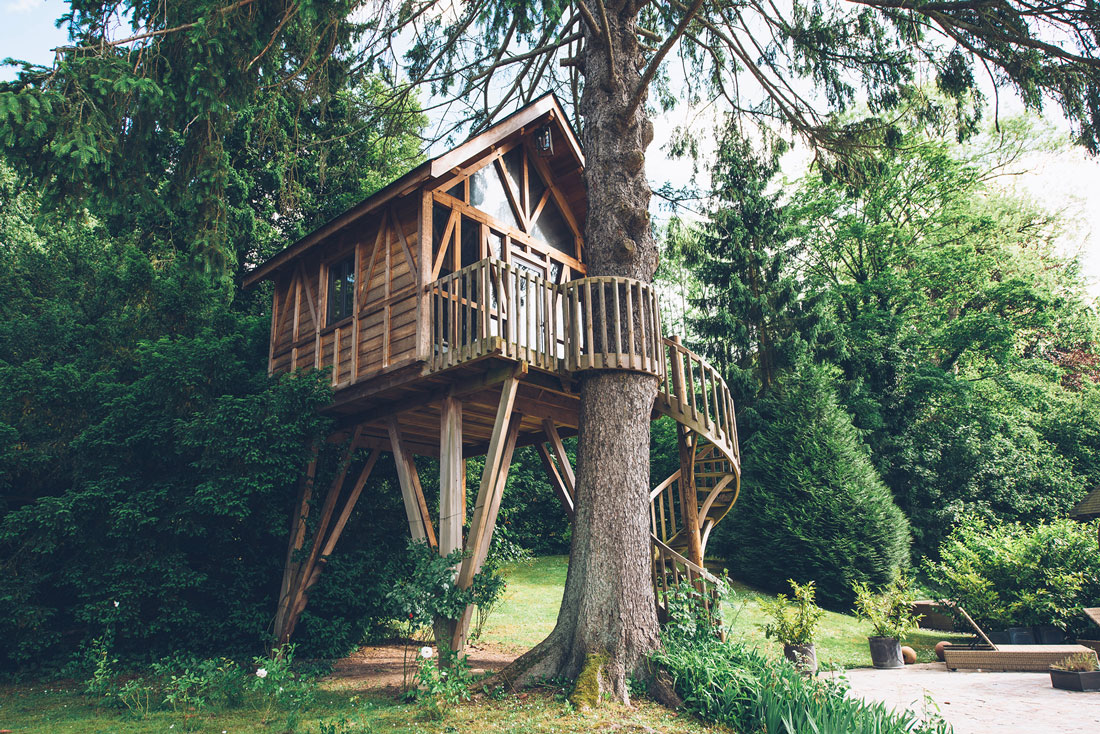 There's a good choice of accommodation and rental possibilities in Lyons-La-Forêt and around. If you appreciate B&Bs in the country, we can recommend Les Herbes Folles. Located at Les Hogues, it offers a charming country atmosphere and you can chat to the passionate owners about wild plants, with an introduction to foraging or cooking with foraged food even on the cards. Back in the centre of Lyons, the Hôtel Le Grand Cerf still preserves its forest atmosphere and makes a perfect place to put your feet up, making the most of a delicious meal in its starred restaurant.
If holidaying with the family, then the B&B Le Nez au Jardin would make a good choice. With its friendly atmosphere, this home has a family room, a pool and a very large garden, with animals, an orchard and a country setting to delight the children.
---
---
Day 2: in the countryside around Lyons, far from the madding crowds
Benefit from the great outdoors on the second part of this Normandy weekend. We propose a mix of visits to natural and historic sites, offering food for thought and moments of peace.
---
A morning enjoying the peace of the forest
Explore the forest surrounding the village of Lyons, immersing yourself in its enchanting atmosphere. This state forest is the largest in Normandy. It's been nicknamed the Cathedral of Beeches; some specimens reach 45m in height. There are over 200km of marked walking trails around these exceptional beech woods.
An excursion into this wonderful natural setting is very much worth it, whatever the season. In spring, the scene is particularly enchanting when the bluebells come out. In summer, during hot spells, a walk along the cooling, shaded tracks through this former royal forest proves a restorative chlorophyll treat. In autumn, the range of colours is stunning, while you might even go in search of edible wild mushrooms. In winter, mists, frosts, even rare snows cover the place with a white mantel. Enjoy the mosaic of colours in the Pays de Lyons area.
You can tackle the paths through the Forêt Domaniale de Lyons on foot, by bike, or on horseback. Most of the trails are suitable for family outings. Also consider exploring Europe's largest beech forest on an electric bike (vélo à assistance électrique or VAE in French). Enjoy your mini-adventure from Lyons-la-Forêt combining an outdoor activity with slow living.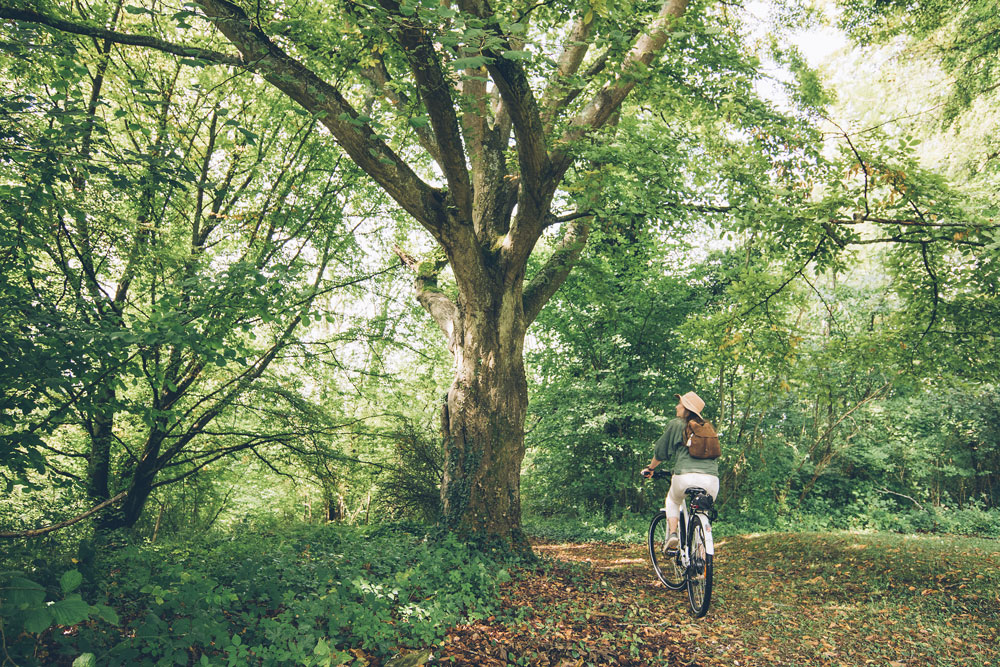 ---
Visiting and picnicking beside a 1,000-year-old abbey in Normandy
Before heading out on your forest outing, even with your helmet already under your arm and your hiking map in your pocket, don't forget to stock up in Lyons-la-Forêt on local produce for a picnic. At the Abbaye de Mortemer, a gem of medieval architecture in the Eure, you're allowed to lunch outdoors in the grounds. Such a well-deserved break beside the lake here provides an additional incentive to visit this beautiful place.
This was one of the few Cistercian abbeys to be founded in Normandy, but the royal abbey of Mortemer was one of the largest built in the 11th century. Long ruined, its romantic vestiges still bring to mind the 1,000-year existence of the Duchy of Normandy as well as legends of yesteryear.