Enter the realm of medieval Eure
The Eure is a county profoundly marked by its illustrious medieval past: physically, with the construction of many strongholds such as Ivry-la-Bataille, Montfort-sur-Risle or Gisors, not forgetting Verneuil-sur-Avre, built by order of Henri Beauclerc, or King Henry I of England, and of many forts, such as Château-Gaillard, ordered by Richard the Lionheart; and spiritually, with the development of Le Bec-Hellouin Abbey, Bernay abbey church, Evreux Cathedral, Bonport Abbey, Mortemer Abbey and the Abbey of Fontaine-Guérard. Now, the Eure is above all a land of medieval festivals and events, mixing past and present, inviting you to take part in its centuries-old stories. History lives on in the Eure and is transmitted here… in a version 2.0! From Rollo, a Norse settler who became the first Viking leader of Normandy, to the present, enter a world of extraordinary tales while on a break here. Enjoy the surprisingly festive atmosphere created by our latter-day knights and troubadours as you wander around a mock-medieval encampment. Enter a remarkable universe, that of medieval Eure in Normandy!
---
Discover Normandy's medieval history  
Medieval history can be reduced to clichés of armoured fighters attacking each other's keeps while beautiful ladies wait piously at home. The reality was rather different. The Middle Ages in Normandy, from the Viking invasions to the French Renaissance, witnessed the blossoming of a lively, learned and culinary culture. Extraordinary Normandy historical epics saw dynasties rise and legends emerge, from William the Conqueror to Joan of Arc via Richard the Lionheart. The medieval period involved the destiny of powerful men and women, such as Empress Matilda (mother of Richard the Lionheart), closely linked to Mortemer Abbey. History has survived down the centuries here in all manner of ways, in unusual village names and in traditional timber-frame and thatched architecture as well as in remarkable monuments that bear witness to the know-how of Normans from centuries past. Medieval Eure continues to live on through history and legends recalled in characterful towns and villages that even sometimes carry names closely associated with battles, such as Brémule or Ivry-la-Bataille.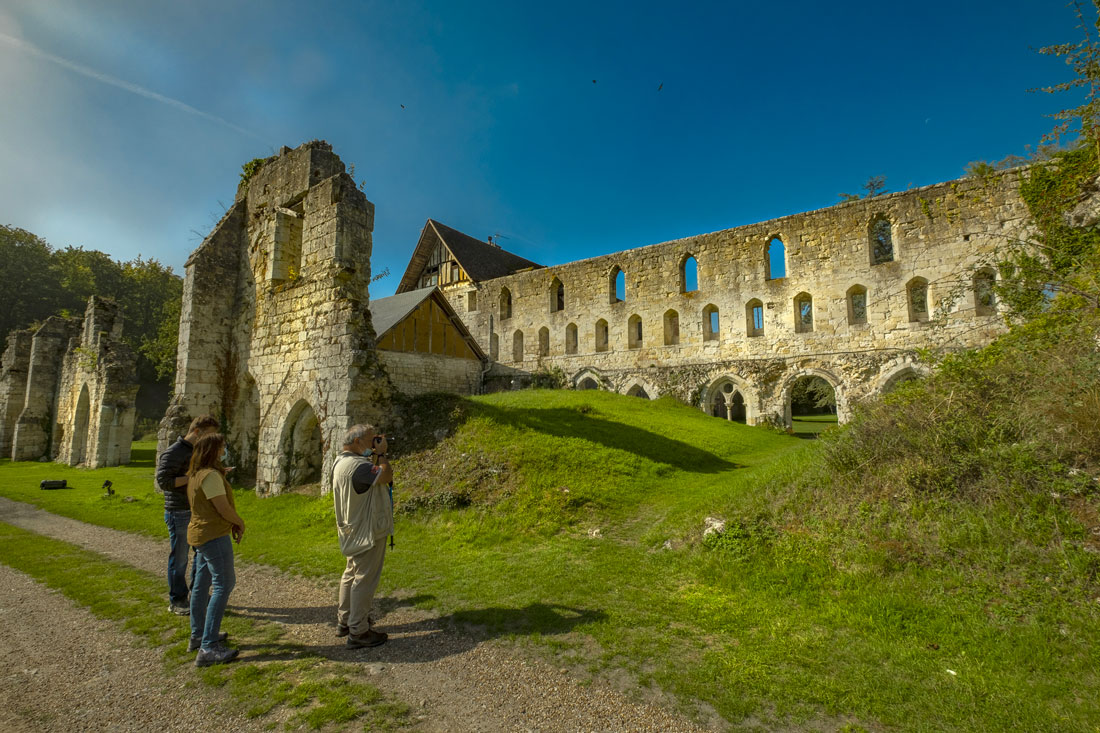 ---
An exceptional medieval heritage in France
Medieval architecture in the Eure can be on a monumental or an intimate scale, or even secretive at times. From splendid stained glass in a modest church or chapel to the soaring medieval fort of Château-Gaillard above Les Andelys, our array of historic monuments is, for the most part, open to visitors. As a family or with friends, lovely heritage walks await you on a weekend away in the Eure. Discover the secrets of the keeps at Conches-en-Ouche and Gisors. Visit the startling Tour Grise, a keep built for French king Philippe Auguste in 1204 in Verneuil-sur-Avre, after his conquest of the Duchy of Normandy. In Evreux, not far from the banks of the Iton River, the town's Notre-Dame Cathedral is a gem of Gothic architecture that has been skilfully preserved. Also marvel at the beautifully decorated reliquary chest for St Taurin, in the church named after this Dark Ages religious man from the city.
There are many splendid Normandy abbeys scattered around the Eure, set in the heart of historic estates that characterise the county. Discover more about the fascinating white tower at Le Bec-Hellouin Benedictine Abbey, in a village that's a member of the association Les Plus Beaux Villages de France and that's crossed by a cycling greenway linking Evreux to Honfleur. Or head into Europe's largest beech forest beside Lyons-la-Forêt, another member of Les Plus Beaux Villages de France, to discover romantic Mortemer Abbey a short cycle ride away. Built on the site of an earlier fort ordered by Henri Beauclerc (alias King Henry I of England), all that remains of this religious establishment is a few ruins, as it was dismantled at the end of the Hundred Years War. Up to the French Revolution, the Dukes of Normandy and Kings of France made the most of hunting in the surrounding royal forest teeming with game.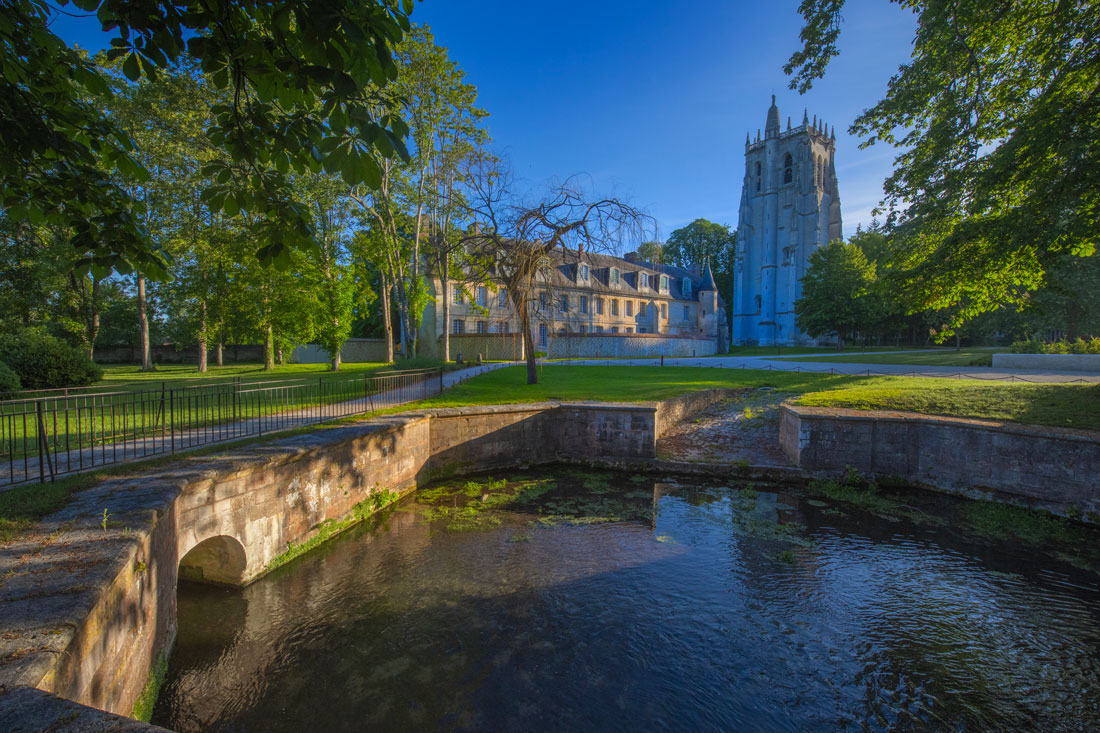 Certain passionate guardians of the Eure's old-stone monuments welcome you onto remarkable old estates, such as those of the abbeys of Fontaine-Guérard and Bonport. At Fatouville-Grestain, near Honfleur, the former Grestain Abbey, founded in 1050 by Herluin de Conteville, husband of Arlette de Falaise, the mother of William the Conqueror, puts on a rich cultural programme every year, with guided tours, conferences, theatrical shows and exhibitions.
Or enjoy another beautiful walk close to the Seine to explore the Chapelle Saint-Thomas at Aizier Leper Colony, the way marked by educational panels that help you journey back in time to 1200 and feel what it would have been like to have lived here as a leper. A short distance from Aizier, Hauville Moulin de pierre is the last surviving medieval windmill in the region, dating back to the 13th century, built by monks from the abbey of Saint Pierre de Jumièges. Every year, events are put on here for the public, as well as workshops for kids during the holidays, in order for families to enjoy a lovely time, visiting, creating and tasting.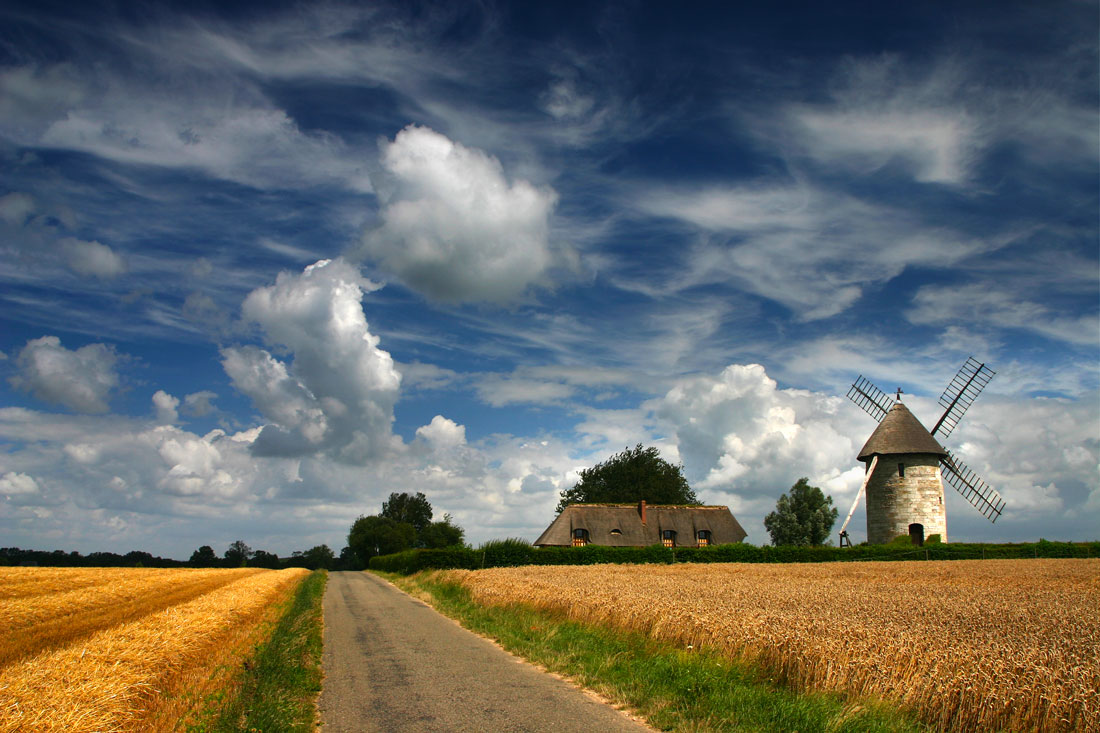 Le Becquet in Bourth is an historic curiosity built in the 11th century for William the Conqueror and his son Henri Beauclerc. A canal was dug out above the natural river's path in order to divert water to the moats of the strongholds of Breteuil and Verneuil.
---
Journey back into medieval Eure via tours and activities
Above all, medieval Eure offers an exceptional journey back in time. The Eure's tourist offices work hard to highlight their local histories. Guided tours and escape games for all the family are activities to try out on your next holidays in Normandy. Stroll through the medieval streets of our historic fortified towns such as Pont-de-l'Arche or Verneuil d'Avre et d'Iton. Follow the discovery trails at Bernay, awarded Ville d'Art et d'Histoire status for its historic riches. Discover all about the Templars' Treasure in Gisors in the eastern area of the Vexin Normand, and about its iconic castle; via the Arcadius game app, a dozen enigmas, accessed by QR codes, lead you around the castle bailey to help you unearth its centuries-old history.
Enjoy the combination of heritage and nature on offer at the Domaine d'Harcourt, with its lovely walks, along with picnic spots, providing fun for the family in the countryside. The unique arboretum here is celebrating its bicentenary. As to the castle, it reveals two exceptional, unusual sides, from the 14th and 17th centuries. Escape games and Séquences Buissonnières, amazing Sunday afternoon summer shows, have reinvented how this place is presented to the public and how you can learn about its historic environmental importance.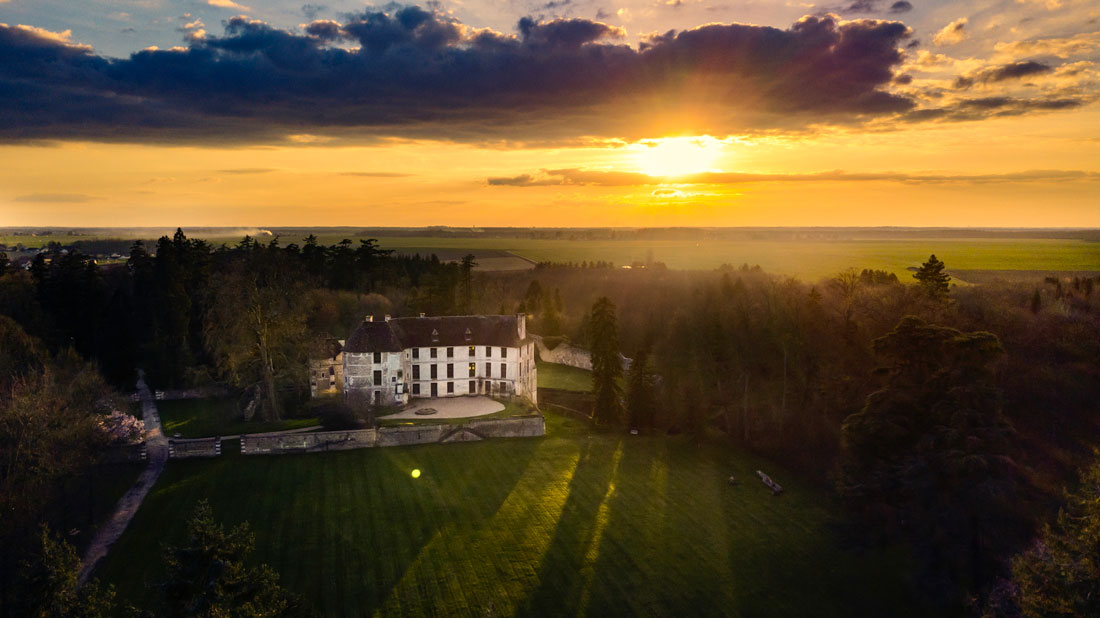 Also explore the Château du Blanc-Buisson, a Norman feudal property built under the reign of King Philippe le Bel. Since the 14th century, just three families have owned this fortress in the Pays d'Ouche area. The château organises giant cluedo games as well as medieval festivals.  
The Middle Ages have also passed down to us a respect for regional cuisine made using local produce. Savour medieval cooking concocted on themed evenings organised by the restaurant team at the Hôtel de la Chaîne d'Or in Les Andelys along the Seine Valley (on specific dates only). Or then, at one of our inns or micro-breweries, sample beer produced by our local craft brewers.
The Boujou Brewery located in Chennebrun has opted to play on the theme of hops and history! The result is their 1424, bière de la bataille de Verneuil, recalling a bitter defeat by the English in the Hundred Years War! This beer is in fact a lager, 4.9° in strength, brewed using oak shavings. It might be a beer to drink to celebrate France's Auld Alliance with Scotland! It's also available from the Tour Grise in Verneuil, from the local tourist office, and at the Saturday market. As to the Duplessis Brewery in Tosny, it has been producing pure malt lagers, pale ales and brown ales for over 20 years. You can sample their Richard Cœur de Lion brew below the Anglo-Norman king's castle of Château-Gaillard in Les Andelys! Meanwhile, the Brasserie des 2 Amants pays homage to the protagonists in a legend linking Mathilda, Raoul and Robert…
Passionate about Normandy history, Laurent Thizy – alias Tristan in the medieval world reconstituted by the medieval re-enactment association called Les Héritiers de Château Gaillard – has created his own business, Légendes Celtes, based in Gravigny, very close to Evreux and makes masks, belts, pouches and books of spells from leather produced using plant-based tanning techniques. This craftsman is dedicated to using materials that have been locally sourced. You can find his creations at medieval festivals and fairs staged around our region.
---
Medieval Eure, History version 2.0
You'll have understood by now that medieval Eure is constantly being relived and retold in our county! Get another angle on the relevant monuments, sites and places to visit around the Eure thanks to tales you can listen to from your own home or on the spot, making use of augmented reality. Take a virtual reality tour of Les Andelys, donning a VR helmet, embarking on a journey into the town's medieval history. Experience simulations and 360° views along a trail that leads you alongside the Seine up to Château-Gaillard.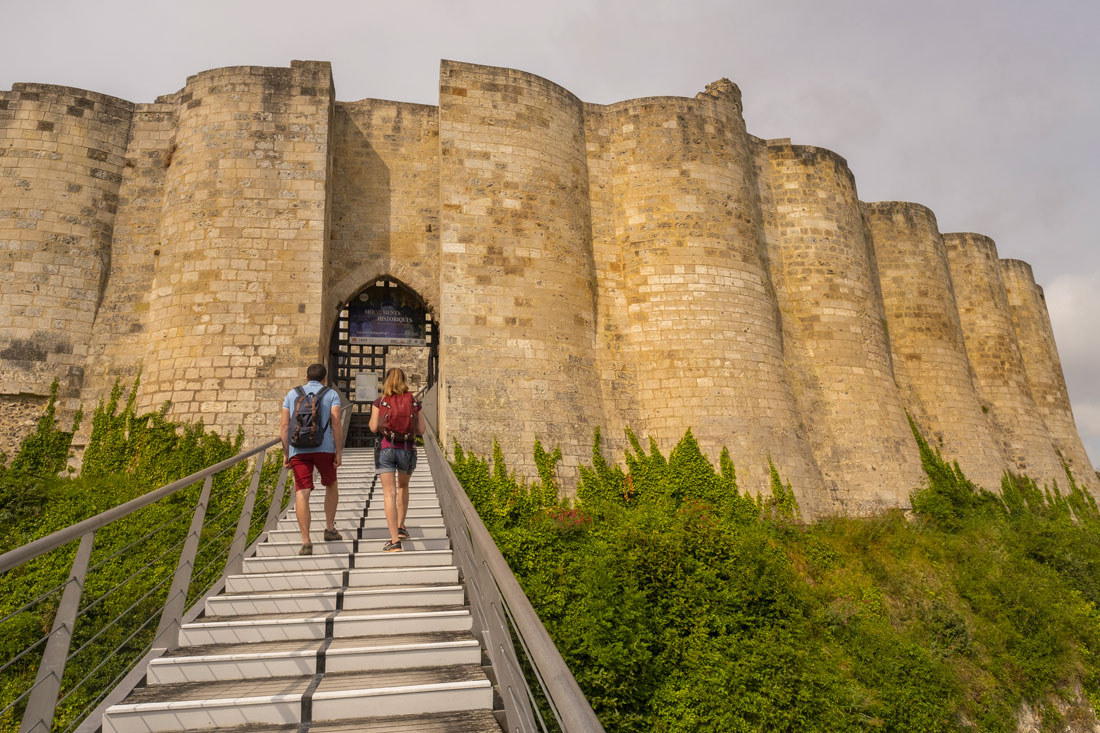 Located 20km south of Rouen, the town of Pont-de-l'Arche has preserved significant vestiges of its rich history involving Viking incursions, medieval knights and the history of Seine mariners. Thanks to a complete new kit available via a dedicated app that you can download onto your smartphone (cardboard), including a lovely discovery notebook, as a family, immerse yourself in the history of Pont-de-l'Arche, guided by one Gervald, a ghost who is said to have been guarding the bridge here since 1415! Enjoy heading out on a playful exploration of ''his'' town, looking for clues from the past that are still to be spotted at this key defensive post located where Seine and Eure rivers meet.
Or with renowned Youtuber Nota bene, be led on the conquest of medieval Eure! This epic takes place across five episodes based around: Château-Gaillard, the famous Seine-side fort Richard Cœur de Lion had built; the Battle of Verneuil in the Hundred Years War; the Abbaye de Fontaine-Guérard and its tumultuous religious times; the Domaine d'Harcourt, headquarters of what was for some time the most powerful family in Normandy; and, finally, the cursed cathedral of Notre-Dame d'Evreux.
---
Fantastic medieval events in the Eure
So closely associated with great figures such as Rollo, William the Conqueror and Richard the Lionheart, Normandy is an unmissable region for those of you keen on history and the Middle Ages in particular. Head out to master medieval Eure by visiting châteaux, abbeys, villages, festivals and other associated traditional events, all taking you on quite a journey back in time. Throughout the year, the medieval sites dotted around the county of Eure will help you to travel down the centuries and relive extraordinary experiences, transporting you into another period thanks to a fantastic programme of medieval events.