Published 15/07/2021 Reading time: 4 min
Can you sense that ever-so-gentle feeling of summer holidays in the air? Feeling like taking your time, filling your plate with colourful dishes that reflect the summer, taking full advantage of the period? In July, the pace of life slackens and a sense of dolce vita takes over. Already on vacation? Make the most of our fine addresses for a midweek Normandy break, as a couple or with the family. Are your holidays some way off? Rest assured, our little gems are also perfect for a preparatory weekend before your ''real'' holidays! So, enjoy!
---
Have a blast with the family at Center Parcs Les Bois Francs
Whether in the water or on horse-back, on greens or in a spa, at Center Parcs, all the family can find something to delight them. The Domaine des Bois-Francs, at Verneuil-sur-Avre, offers midweek packages in a cottage with all the comforts you'd expect. Lunches and dinners served on the terrace, walks along shaded paths and activities to really enjoy together enable you to make the most of the great outdoors. Before, during or after the main holidays, you can meet here to enjoy the little pleasures in life.
And are you aware of the action Factory? It's a paradise for children, offering mini-go-karting, interactive mini-golf, bowling and even Baluba. All told, a whole world of indoor games!
Take pleasure in (re-)discovering the magnificent 9-hole golf course with its views of a château, Aqua Mundo tropical with its wild river and giant slides, pony treks, the farm, outings in a buggy, introductions to the circus, courses for families, or then aqua balneo water exercises to finally enjoy a bit of time to yourself. These 310 hectares in the heart of the forest are an ideal playground for young and old alike.
---
Savour a stay as a couple in the Marais Vernier
Seeking a place to escape to where it feels like you and your other half are alone in the world for a few days and nights in the heart of the countryside? Then head for the Marais Vernier! Les Cigognes du Marais is a B&B with all the elements for a successful stay getting away from it all. Take a look at the cosy rooms, even the POD combining comfort and nature, and consider the hot tub, rental bikes, and tasty table d'hôtes dining by reservation, all in the most enchanting of settings.
The séjour romantique (romantic stay) package includes tasting a seafood platter by candle light, enjoying a sauna side by side and going on a cycling trip on a tandem.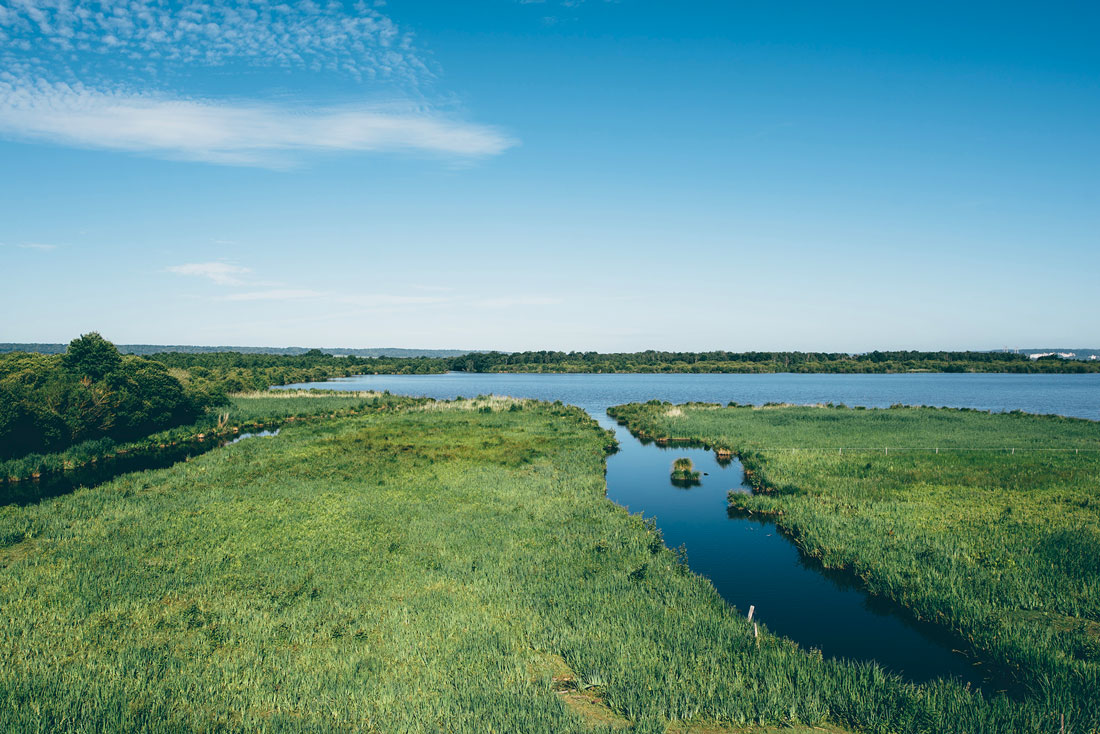 Having enjoyed all these delights, head out along lovely Normandy trails to discover the Marais Vernier, an area designated of European ecological interest, set in the Parc Naturel des Boucles de la Seine Normande where you can observe, among other creatures, white storks and grey herons. 
The inquisitive might head up to Aizier to discover the atmospheric St Thomas's Chapel, or follow at their own pace the Route des Chaumières, a 53km-long route along which to unearth a hundred or so traditional timber-frame thatched homes.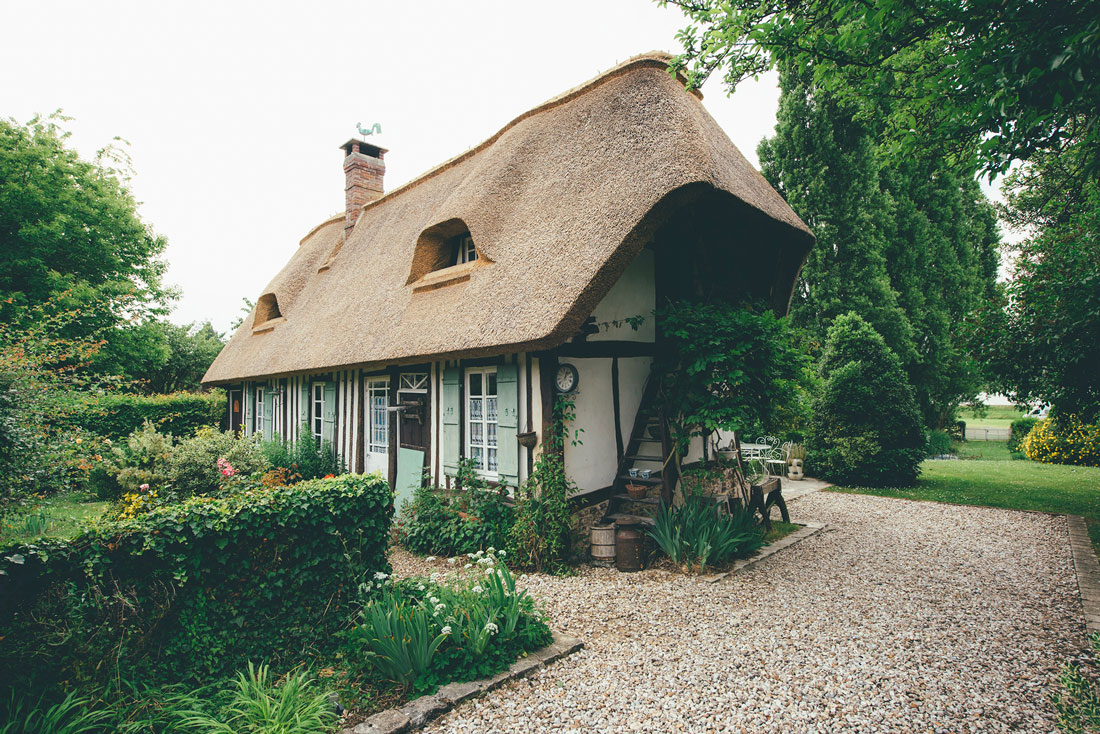 ---
Roaming between the Eure and the coast at Pont-Audemer
Pont-Audemer, a characterful town and part of the association Les Plus Beaux Détours de France, is known by the nickname of Normandy's Little Venice. Its historic medieval centre is crisscrossed by waterways spanned by stone bridges and boasts magnificent architectural elements to spot as you wander around, such as grand houses, former tanning barns and sculpted balconies… while Saint Ouen Church and the Musée Canel encourage visitors to discover more about the history and culture of this Normandy gem, located so close to the coast.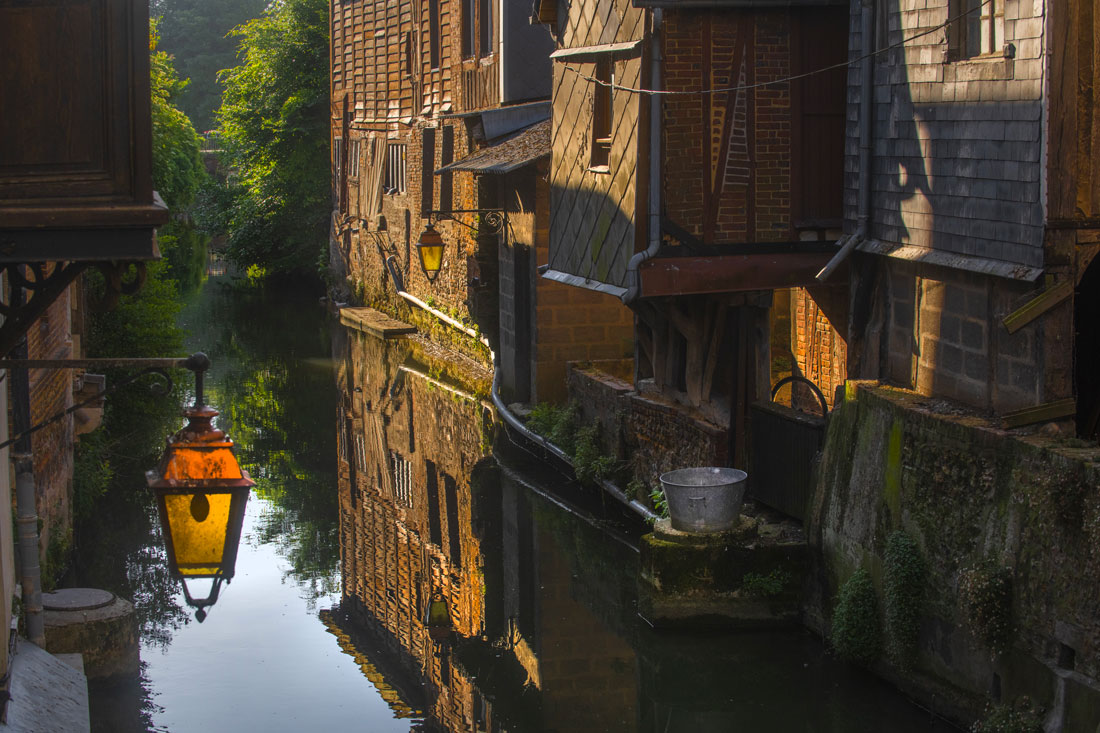 Many romantic places are to be found in these parts, as you wander hand in hand along the quays or perhaps treat yourself to a pampering stay at the Hotel Belle Isle sur Risle, a 4-star establishment with all the imaginable comforts, including a gastronomic restaurant… This beautiful 19th-century home also boasts an indoor and an outdoor pool, a spa, a gym and tree-lined, shaded grounds covering 2.5 hectares.
With the family, why not settle in at the tourist residence Les Portes d'Honfleur. This place has apartments for two to six people, each with a balcony or a terrace. Activities are available on the spot, what with tennis, rental bikes, a wellness space and a covered pool. Plus, you're ideally located to discover both the Eure and the Normandy coast, with the likes of Honfleur and Deauville close by.
As a couple or in a large group, enjoy an outing to Pont-Audemer to experience all the fun of the Festival des Mascarets. Concerts, street arts and all manner of events are on the programme… Discover more by consulting our Diary of events.