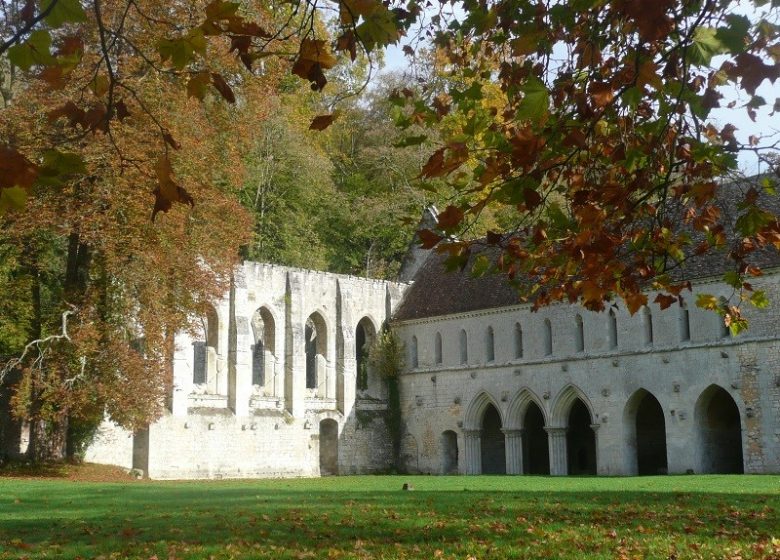 In the Andelle valley, enjoy the tranquillity of one of the most beautiful Cistercian abbeys in Normandy.
Nestled by a miraculous stream "the healing fountain" in an unspoilt natural setting, there used to be an abbey for nuns dedicated to prayer and meditation.
Founded in 1190, it was attached to the Cistercian Order of Citeaux in 1207 and completed in 1253.
Despite damages caused by the French Revolution in 1789, the remaining monastic buildings are considered as a masterpiece of Anglo-Normand Gothic architecture from the early 13th century that reflects the Cistercian strictness in its purity of form.
The visit will take you through the troglodytic cellars, the church and its vaulted choir, the nuns' building with the Chapter House, the workroom, the dormitory with its beautiful framework, and the monastic gardens dotted with sculptures of the women who have lived in this tranquil and serene place. You will be carried away by this enchanting place!
Visit
Average duration of the individual visit: 90 min
Average duration of the group visit: 60 min
Welcome group from 15 person(s) to 30 people.
Opening
Sunday April the 10th : from 10 am to 7 pm (Book and Spirituality Day).
From April the 18th to the 24th every day : from 2pm to 6pm
From April the 30th to May the 15th ("A l'écoute des petites voix de la Terre", sculpture exhibition by Michel Daön) and May the 26th : from 2pm to 6 pm
June the 4th and the 5th : from 10and a half am to 6 pm (Medieval entertainment)
June the 6th : from 2pm to 6 pm
Closed between June the 7th to July the 3rd
July : from the 4th to the 8th, the 11th, the12th, the 15th, the 18th and from the 21 th to the 39th : from 2 pm to 6 and a half pm (from July the 23th to August the 18th : « Sur-Faces » : contemporary graphic art exhibition by Michel Delaunay)
July 30-31 : from 10 am to 6 and a half pm (« The Spawn Party » : geek manga cosplay )
August : from the 1st to the 12th, : from 2 to 6 and a half pm
August 13-14 th : from 10 am to 7 pm continuously : Fata Morgana
August the 22th, the 23th, the 26th and the 29th : from 2 pm to 6 and a half pm
September : on Friday the 2nd, the 9th, the 23th, the 30th and during the Heritage Days (the 17th and the18th) : from 2pm to 6 pm (Tribute to Pierre Rabhi).
October29-30 : Arts and crafts fair
Prices
| Type | Price |
| --- | --- |
| Base rate - full rate adult | 6 € |
| Child rate | 3,50 € |
| Reduced rate | 4,50 € |
Means of payment
Carte bleue
Postal or bank cheques
Cash
Money transfer
Services
On-site activities
Temporary exhibitions
Specific theme activities
Conferences
Adult workshop