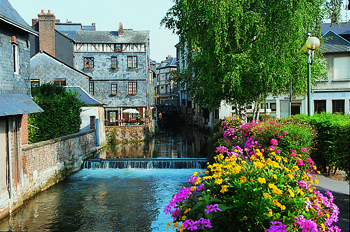 Pont-Audemer and the Val de Risle welcomes you to Normandy for an unmissable stay between Paris, 150 km away, and Honfleur, 20 km away.
In the heart of an unspoilt valley, Pont-Audemer and the Val de Risle offer an authentic experience that will delight nature lovers. Here, the water of the Risle, the wood of the forest, the soil of the footpaths and the stones from the past come together. A getaway in Pont-Audemer and the Val de Risle promises all these simple yet key elements for a genuine return to the basics of well-being in utter tranquillity, close to major Norman sites such as Honfleur, Deauville, Trouville, Rouen, Étretat or Le Havre…
The Tourist Information Centre will offer you a warm welcome and will give you all the information, advice and brochures useful to your stay.
Services
Services
Welcome
Entertainment
Information
Promotion
Guided tours